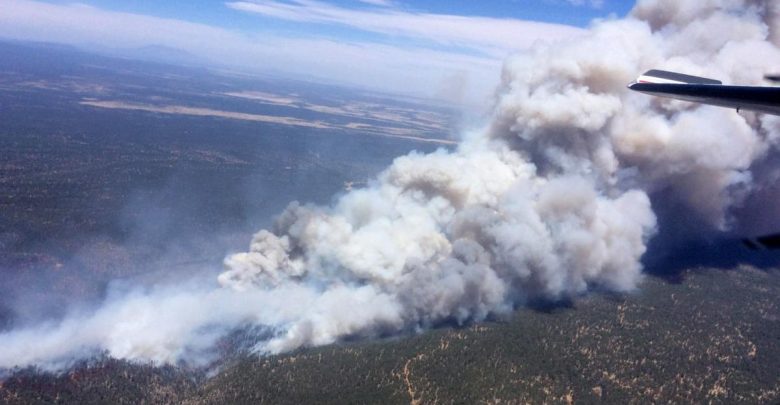 America
Arizona Wildfire Burns 7200 Acres of National Forest
Fire crews are battling a huge wildfire northeast of Cave Creek, which began of Friday. Fire officials said that – as of noon on Saturday – the fire had grown to over 7,200 acres.
The fire began on Friday and was started near the Horseshoe Dam Road turnoff. The Tonto National Forest believe that the fire is likely to have been caused by humans, whether accidentally or deliberately is unknown.
The fire is currently completely contained in the Tonto National Forest, where it burns east and northeast towards Bartlett Lake. The Bartlett Dam Road has been closed off where it intersects with Cave Creek Road as a precautionary measure.
The Maricopa County Sheriff's Office helped out with the now-mandatory evacuation of Bartlett Lake Campers still in the area. The evacuations began on Friday as a voluntary measure but became mandatory after the scope of the fire became clearer.
Officials say that the fire is heading north/northeast, which does put it away from local communities in the area.
All of the day-use areas and campgrounds near Bartlett and Horseshoe lakes have been closed off so that firefighters can focus on containing the fire to prevent it from spreading. Individuals still present in the area are allowed to leave and will be escorted to Cave Creek Road if they so choose.
SWCC said Mesa and Payson fire crews are tackling the wildfire with assistance from air tankers, including two DC-10s.
The National Weather Service Phoenix radar discovered that smoke from the fire had risen over 10,000 feet above the ground. They said that the smoke from the fire, along with smoke from burnout activity undertaken at the Coldwater fire, is spreading into Northern Arizona north of Interstate 40.
The weather is not on the side of the firefighters, according to NWS Phoenix. They are battling above-average temperatures and seasonably dry conditions, as well as late-week breeziness, in their attempts to contain the fire.
NWS Phoenix points that the majority of wildfires are human caused, which is why this one is likely caused by humans too. Even regular activities such as yard work and camping can accidentally spark fires. Once a fire starts, it spreads quickly and can be difficult to put out, as this latest wildfire is showing.