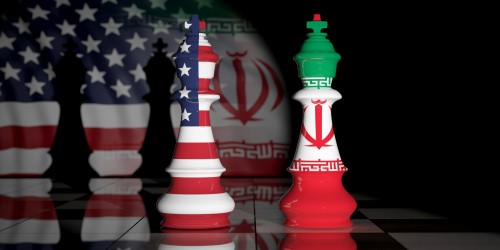 Announcing violations of the 2015 nuke deal and demonstrators screaming "Death to America" in Iran come as no surprise to many, but what does this all really mean for the future of Iranian-American relations? Is this a potential challenge from Iran to the rest of the world to see if anyone is willing to start a war?
Iran Changes The Rules
Ali Akbar Salehi, head of Iran's Atomic Energy Organization, made an announcement about Iran's current military power, and the fact that it basically makes the 2015 deal null at this point. Saying that the nation now operates twice as many centrifuges as allowed by the deal, experimenting with prototypes, said to be 50 times faster than what's allowed, generally make it way faster for Iran to potentially produce nuclear weapons.
Anti-U.S. protesters also had their own meet-up where the former U.S. Embassy was in Tehran, celebrating 40 years since the takeover of 1979 of Islamic extremism and shouting "Death to America." Tehran was not the only city to celebrate this however, with footage from all around the country being aired, including anti-U.S. speeches,  including one from the commander of the Iranian Army, Gen. Abdolrahim Mousavi.
"Our fight with America is over our independence, over not submitting to bullying, over values, beliefs and our religion. [Americans] will continue their hostilities, like the proverbial poisonous scorpion whose nature it is to sting and cannot be stopped unless it is crushed," the commander said. [Source: Reuters]
Not all demonstrations in the region, however, were pro-Tehran, like in Iraq and Lebanon, in Karbala, specifically, the Iranian Consulate was the target of a night-time attack, in which three protesters were killed, 19 wounded, alongside seven policemen.
Is This the Beginning of a March Towards War or Peace?
These events just continue to escalate tensions between Iran and the West. Attacks over oil facilities in Saudi Arabia in September, which are speculated to be Iran's doing, have just been creating more pressure. With these new announcements, it seems Tehran is no longer interested in hiding anything. Could their goal be, to perhaps spark a war? Or is it simply to take advantage of the situation at hand and try to bend the western leaders into signing a new deal, beneficial to the nation?