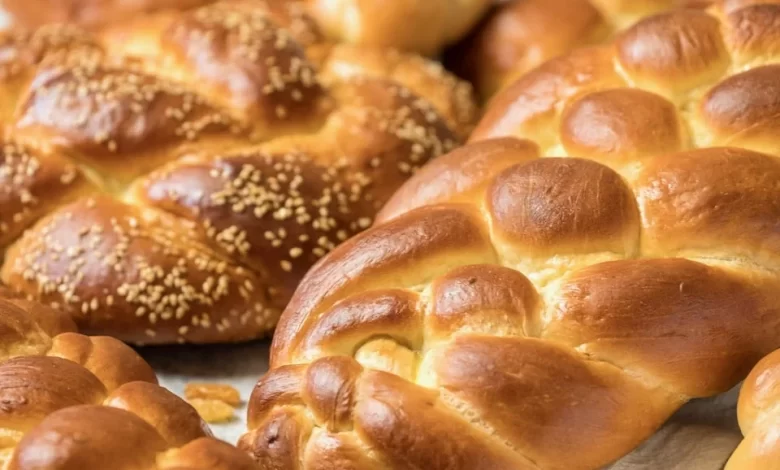 The Jewess Patriots: Radio Show Hosts Can Bake….Challah
Challah is a special bread of Ashkenazi Jewish origin which is usually braided and typically eaten on ceremonial occasions such as Shabbat and major Jewish holidays except on Passover.
Challah is made in different varieties, but all include eggs, flour, water, sugar, yeast, oil, and salt. Each represents a meaning for life; flour-sustenance, water-life and Torah, yeast- growth and expansion, eggs-fertility, oil-anointment, sugar-sweetness and salt represents discipline.
There is a special eighth ingredient that is unique to each and every one of us, and that is our souls. When we are making the challah we are putting our personal spiritual energy into the dough.
Jewish women have the Halacha or law to pray while preparing the dough. If one used  5lbs. of flour: While sifting the flour  pray; Please Hashem help me to separate the good from the bad, help me to get rid of my negative character traits and my Yetzer Hara, help me to focus on the positive and incorporate positive character traits just like I am doing with sifting the flour. We take off a small piece and burn it.
Challah has become a trendy ingredient in the non-Jewish world.  Challah bread cut into cubes is used in bread puddings and for stuffings.  Probably every diner or brunch menu includes their variation of Challah French Toast with fruit or chocolate toppings.
Challahs are so popular that there are recipes for gluten-free and vegans. Challah avocado toast is trending on social media.
For me, challahs are more than bread. They are decor for my holiday tables. Recently, I made napkin rings for Chanukah.
Recipe for approximately 6 loaves or 5 pounds
They freeze well
Dough Ingredients:
4 tbsp. dry yeast
2 tbsp. sugar
5 cups very warm water, divided
5 large eggs
1¼ cups honey
1 cup oil (canola or light olive oil)
2 tbsp. salt
Approximately 18 cups flour
For the egg wash:
1 egg
2 tbsp. honey
1 tbsp. vanilla
Directions:
In a very large bowl, dissolve yeast and sugar in 2 cups warm water and let sit about 15–20 minutes until thick and frothy.
Add eggs, honey, oil, salt, remaining three cups of water, and half the flour. Mix until a loose batter forms. Add the rest of the flour a couple of cups at a time. You may not need all 18 cups of flour, so go slowly towards the end. Alternatively, you may need slightly more. The dough should be soft but not sticky. Once the dough has enough flour, knead it for a couple of minutes. I do this in the bowl. (You can do this recipe by hand or with a mixer.)
Cover the dough with a wet towel or plastic wrap and put it in a warm place to rise for about 1½ hours. Dough should double in size.
Punch the dough down and let it rest for 10 minutes. Divide into 6 equal pieces.
Braid according to pictures and directions above. Place loaves on lightly greased pans and let rise for another 40 minutes.
Beat the egg with the honey and vanilla and gently brush over the loaves. Bake at 375° F for approximately 45 minutes. Loaves should be golden on top, and firm on the bottom.
Braiding Challah
Braiding is a technique that takes practice. My suggestion is to watch many videos and keep practicing.  I'm still not a good braiding baker. Start with a three strand braid, similar to braiding hair.
A great hack is to buy molds shaped like challahs or by foils shaped like challahs and fill halfway with balls the size of meatballs.
If this sounds intimidating, it will be at first. But, once you get the opportunity to bake a delicious challah, you will never want another bread.
Treat your challah preparations with care. Do you remember watching old Italian grandmothers hand kneading their pasta with love? This is our version.
Also, don't bake challahs when you are distracted or short on time. There is a reason for multiple rise times.  Sometimes, after the last rise, it is good to let it stay overnight in a refrigerator and bake the next morning.
#youdonthavetobejewishwithcindy or Jewish to enjoy Challah, especially homemade.