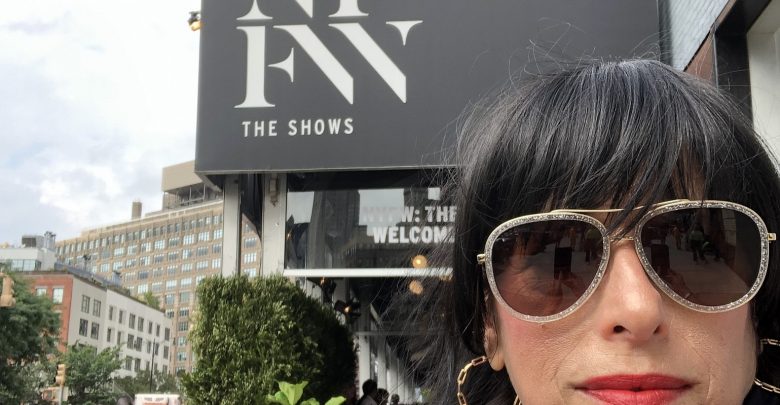 By Cindy Grosz:
The Spring/Summer 2020 New York Fashion Week Roundup With Cindy's Corners
I just finished two weeks of fashion shows, private parties, endless steps on my Fitbit, and hundreds of cups of coffee or water bottles, but as tired as I am, I would trade missing a beat of this fashion drum.
"Catching the Bibhu Mohapatra Show with Deborah Cox"
It's hard to describe this latest set of shows in a few words. Overall, I felt, like many, a tone is being set in the world of fashion. New York Fashion Week is no longer about 7th Avenue or Jews running the industry. It was everything but that.
"Partying With Patti LaBelle"
I personally was invited to shows featuring Australian, Japanese, European, Indonesian, Canadian, Swiss, Chinese, Latin American and Hispanic, South American and Middle Eastern designer shows and presentations.
"About to enter a show at Spring Studios."
The major takeaway trends I saw:
Pastels, and I mean every pastel color, even in makeup and hair accessories.
The collaboration painters and fashion designers. Besides holding events in galleries, painters were featured on runways and as part of shows. The most noticed artist was Ashley Longshore, who was a part of Christian Soriano and Dennis Basso's shows.
Sneakers!!! Yes!!! It was fashionable to attend shows and parties wearing sneakers. It did not matter if you were wearing them with jeans or a ball gown, comfort and safety took center stage and received a great reception.
Shows were everywhere. You definitely needed a map to find shows and be on time, as many designers created not only garments, but reinvented the stagings and locations of events to include Brooklyn and Bronx locations. In fact, many show got more attention than the clothes or front row public figures.
Clothes that flowed. I sense designers looked at many trends of the 1980s and 1990s that worked like attention around the neck and shoulder area and longer lengths that flared out and flowed.
A variety of textures and clothes. You couldn't say satin or cotton or silk dominated. You could wear it all.
I felt designers focused on letting the clothes speak for themselves. I didn't see an accessory trend or hair and makeup trend to blend with the clothes.
Overall, I would say, embrace it all as you like and create your own wardrobe by incorporating a bit of it all!!!
Some lesser known designers whose shows I attended that I truly enjoyed:
Bibhu Mohapatra was inspired by Richard Avedon and James Baldwin's book, "Nothing Personal." "They did an examination of American identity in the Sixties and what it was to be an American," Mohapatra said postshow, adding: "I think we are asking that question right now, what you bring to the table and how to turn that environment we are in now really positive and optimistic. We should dig our heels in and really say loudly who we are."
Hahn Merriman's inspirations were from a recent family trip to America's southwest. Since I was just there, I related to the clothes and feel of the presentation with a warm, fuzzy feeling. I personally love the company's mission to support working mothers and charities through this business.
Chiara Boni La Petite Robe, a favorite of mine and many who I know, had a show during my Sabbath. While I couldn't attend, they were so nice to correspond with… and I don't speak Italian!! Their theme was playing with a deck of cards…. and winning with whatever hand we are dealt. The ending was a queen of hearts. Their line, form-fitting and comfortable did not disappoint!
And nothing is quite like a celebrity party. I attended the US Weekly annual event.
"During New York's most important week in fashion, we are excited to celebrate Us Weekly's 15th annual event and this year's Most Stylish New Yorkers. Our list of honorees, including heavyweights in the worlds of culture, fashion and entertainment, reflects an exciting mix of individuals of style and far-reaching influence," says Victoria Lasdon Rose, Executive Vice President, Chief Marketing Officer of Us Weekly & AMI Entertainment Digital Group.
This year's event celebrated 15 icons in the world of fashion, entertainment and sports. Among those who were there included: Chris Benz, DJ Pamela Tick, Micaela Erlanger, Nam Vo,  Jennifer Fisher, La La Anthony, Lil' Kim, Deborah Roberts and Ice-T and Coco, his wife.