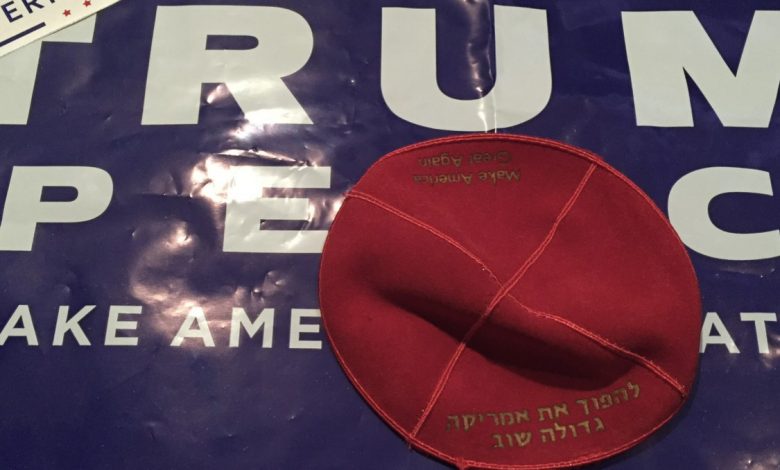 While Republicans overall did not get a majority of the Jewish vote, Jews from all religious affiliations played key roles in making the difference in victories in New York, Florida, Michigan and elsewhere. And, this year, there were a record number of Jewish candidates running from multiple states for Congress, State Senate and Assembly positions.
The Republican Jewish Coalition worked with leading pollsters at Basswood Research and McLaughlin & Associates to conduct a national exit poll of 600 registered general election voters who describe themselves as Jewish. The poll shows that President Donald Trump won 30.5% of the Jewish vote this year, up 6 points from his 24% share of the Jewish vote in 2016. It is the highest percentage for any Republican presidential candidate since 1988.
The Jewish involvement in New York was key in President Donald J. Trump's overall wins in several counties, including Nassau and Suffolk on Long Island. In fact, not only were all incumbents re-elected, Nancy Pelosi has two less votes she can count on as New Yorkers have the pink slip to two Democratic congressmen.
This is evident in the re-election of Lee Zeldin and the victories of Andrew Garbarino and George Santos, representing the Great Neck and neighboring Jewish neighborhoods. Religious Jews helped elect the first gay Republican with an unknown, George Santos.
One constituent who asked to remain anonymous told me, "The vote was about President Trump's support for Israel and against Governor Andrew Cuomo and Mayor Bill de Blasio's anti-Semitic attacks on Jews by singling them out and prohibiting religious, business and social gatherings while complimenting the groups like Black Lives Matter for peacefully assembling in large groups, without masks and without confirmations of Covid testing.
While county and state leaderships will take credit for the congressional wins, it was actually a grassroots effort by Jews to either host or participate in Pro-Trump rallies, use social media to spread the get out the vote for Trump and GOP candidates down the line and actually volunteer for these candidates.
It seems people voted RED down the line— even without knowing the name or background of the candidate.
The Jewish effect was even more important for the win in New York's District 11th for Nicole Malliotakis. The Jewish communities donated time and money from both the Staten Island and Brooklyn areas and their efforts against a Jewish Democrat incumbent, Max Rose was evident. Rose was never able to overcome his vote for impeachment and the progressive defund law enforcement message.
Jews helped with important re-elections of Senators Lindsay Graham, Tom Cotton, Susan Collins, Joni Ernst and the wins of John James in Michigan and Tommy Tuberville of Arkansas.
These wins are key for a balance of power in Congress against the radical left.
Americans who are abroad in Israel also made a big difference. The number of these absentee ballots were the most ever. They not only voted for Trump, but in New York, New Jersey, Maryland and national , Illinois, Michigan and California as well. Those states produced higher popular votes than expected.
President Trump tapped into something Jews should take note of and that the grassroots group, Jewish Vote GOP will begin working on today towards key victories in 2021 and 2022.
Reaching out and getting involved in local, state and national races are key.
President Trump understood the changing demographics of the United States and the Democratic Party. He was able to embrace Blacks, Hispanics, Millennials, and other minorities in record numbers.
By working with the Trump administration, those groups were able to benefit from criminal justice reforms, employment opportunities and education choices.
Jews want those too. In order to achieve more statewide and federally, they need to educate themselves about the issues and meet candidates on all levels of government. That includes school board members and judges.
In Nassau County, there were only seven choices for judgeship positions. They were all cross-endorsed and automatic wins. Is this fair?
The only way for Jews to have power is to register in both parties, participate in primaries in both parties and support candidates in both parties that support our concerns.
Also, President Trump won support from middle class Jews from all religious affiliations, as well as the victors in the aforementioned races. Sephardic and Russian legal immigrants played big roles in donating to national candidates and voting in New York.
What's Next in Election Stalemate?
Legal battles will dominate the news and Jewish attorneys will help find out who becomes the next President. In every swing state, in every state where votes are being challenged, Jews have large, thriving communities. Let's help keep the calm, support the GOP and pray!
Jewish Vote GOP will be introducing its followers to both the newly elected and senior leaders in Washington DC. Remember, 2021 will see key Senate races, a Mayoral race in NYC, and in two years, a House of Representatives can change.
If you are hearing you must register as a Democrat to vote in primaries and donate to moderate Democrats who will defeat AOC and the squad, think again. Jews wasted millions of dollars in donations and hours of volunteering in no-win situations. It is not the Democratic Party of FDR and JFK. But, history and research have proven that Roosevelts and Kennedys were not so wonderful to European Jews suffering in Nazi Germany.
Our work has just begun. Contact jewishvotecounts@gmail.com with any questions and suggestions to join Jews together in the Republican Party. All we ask is that you donate some time and effort