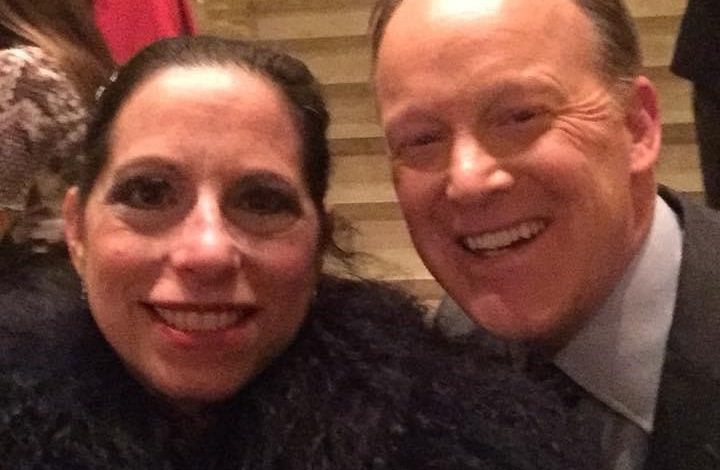 I know of a Newsmax Host that dominates in ratings, supports Israel And predicted some of the major 2020 issues in his latest book - Sean Spicer.
One network didn't rush to call the winner of this disputed election for the Presidency of the United States, and one of their hosts hasn't mocked people on the Trump legal team - also Sean Spicer.
I know Spicer as a friend and supporter of many of the largest Jewish and Zionist organizations and it was nice to catch up.
Cindy Grosz: Sean, so nice to get a little time with you these days, given how busy the news cycle is.
Sean Spicer: I'm actually speaking with you in between meeting some of the elected freshmen congressional members and going into the studio.
C: Congratulations on the success of the show. You truly deserve it.
S: I am truly humbled with all of the new followers and viewers. We have been around awhile, but the growth is support is simply amazing. I don't take it for granted.
C: I have to ask, you are changing the fashion "game" of news personalities. I can't remember the last time a man made such a fashion statement. Where do you get those jackets?
S: Ike Behar dresses me. And, Cindy you are not the only one noticing and calling me. Again, surprised and humbled.
Based on his newly refined look, I really have to get Sean to some fashion shows, and speaking of live events, Spicer and I first met as we kept running into each other at the major galas supporting Israel and Jewish organizations. Times have changed. There are no more live events and opportunities to see each other and like-minded peoples. However, Spicer pointed out how he always has spoken out in support of Israel, before during and after his days in The White House.
Which lead us to discussing his latest bestseller, Leading America. In the book, Spicer writes that President Trump has done a remarkable job facing down the challenges of his first term, from impeachment and Fake News to the sudden outbreak of Covid-19.
"Conservatives have always faced enormous headwinds from the media, hollywood, academia, and big tech ," Spicer says, "but the resistance to this Administration has taken it to new heights even during this crisis. Leading America will expose the reality and hypocrisy of each and how the President's policies and agenda are fighting back.
Leading America shows how President Trump has demonstrated great strength and care for the American people as he fights to help keep the country healthy and financially sound. If we elect him again, Spicer says, we will emerge from this crisis stronger than ever. He gave America its greatest economy in history before this crisis, and he'll do it again if we get through the current lawsuits and find the voter fraud claims substantial.
"I wrote this book over a year ago not knowing we would be living through questionable election results. But, we have everything going against us, big tech, most media and conservatives being censored on social media. College campuses are an environment of poison for conservatives. I point out the next steps. Look what Charlie Kirk and his group Turning Point has done for millennials. We have the tools for success. We need to use them. I am told this book helps engage those to conversation and debate in a positive way with facts." - Sean Spicer
Spicer is the host of Spicer & Co. on Newsmax TV.