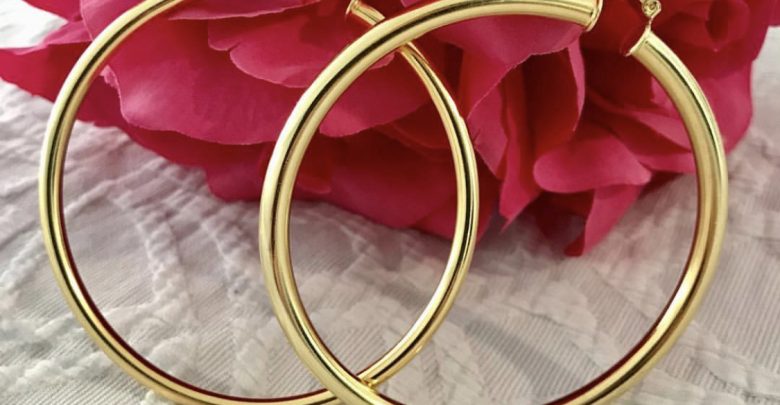 By Cindy Grosz:

Aurelie Attar Berdugo is the force behind NOA jewelry, a new company out of Florida. She has an international clientele from a fairly new Instagram account.

Just a few of the reviews:
"Rocking the best hoops ever, so lightweight and perfect for my sensitive lobes"- Lindsi Lane
" I feel so J Lo" – Frumee Taubenfeld
"Absolutely loving my light as feather gold hoops earrings." – Carrie Nahmani
"These are soooo fab" – Esther Santer from EstherandSacha
"I am so obsessed with my hoops. Love all my NOA jewelry, they have such a sexy Moroccan vibe to it" Taja Abitbol
Berdugo was born in Montreal, Canada with French Moroccan origins. She is married to a very supportive husband (one of the reasons for my growing success!) and is the mother to two delicious kids, David and Noa. Hence the name of the jewelry line's name NOA.
She had two fascinations. One was dedicating her life to health sciences. The other was creating accessories that are affordable, comfortable to wear and pieces that people would want to wear.
According to Berdugo, "I studied under my grandfather, who was a clothing designer and owner of successful brands that he created with his bare hands. For many years we shopped for his collections together, he taught me how to have an eye for details, how to look out for the next big thing but to always be original, affordable and never compromise on quality. "I applied all of his wise advice to my business today. I then decided I wanted to give jewelry a try. I studied what was out there inside out. I self-taught myself how to design and sketch jewelry. I sent them in for samples and fell in love instantly, I knew I had ''the next big thing" in hands. However, I came out with what I thought was "fillers" or appetizers to my main collection, the SELENA hoops.
The "Selena" hoops are the biggest seller in the current collection. They are lightweight, so ears are not weighed down. They come in different sizes, however it seems people are choosing the largest hoops to wear day and night.
I always was fascinated with 2 areas of life. Health Sciences and Fashion. I wanted to go into both, my heart was torn. I finally decided to become a nurse practitioner. With a baby in hand and pregnant again, (with lots of help from family especially my mother inlaw!) I became a nurse and obtained a Bachelors in Nursing. I quickly realized that the nursing world had a really sad aspect to it. Seeing my patients in pain seemed to bring me down, I could only think of them when I went home at night and I felt absolutely helpless, I wanted to cure them all, I didn't want any of them to die but I couldn't do anything real about it. After giving birth to Noa, I decided that I wanted to give nursing a break and concentrate on my family for a while. I, however, have no experience with "slowing things down". I was in school all of my life and during the summers I was always an entrepreneur from an early young age. I created, owned and coordinated a summer camp that quickly became a success in Montreal for 5 consecutive years.
Bestsellers: Selena hoops, link chains, personalized name bracelets and necklaces
Watch out for what's coming next:
The Kate and The Meghan Kids Line
Cindy's Corner Style Center
Every column will give you Five Fashion Facts You Need To Know:
Take out your straw and shells, they are everywhere.
Lower heels are back and comfortable.
Fake, long ponytails make your hairstyles versatile.
Oversized eyeglasses should be put away for a while.
Fashion's biggest night is coming….The Met Gala held on the first Monday in May.
Fashion, beauty, style make one beautiful on the outside, a person is truly stunning when they are beautiful on the inside too. Help a stranger, donate to a charity or call a loved one and remind them how important they are to you.
NYC Based Fashion Blogger Cindy Grosz can be reached at cindyscorners@gmail.com.