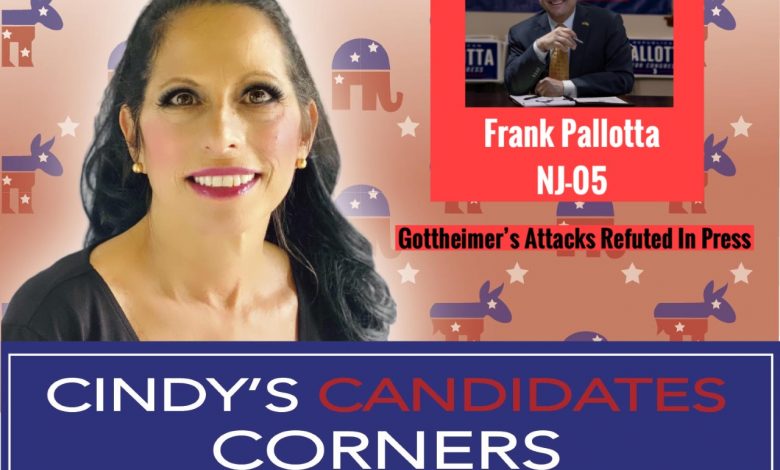 Congressman Josh Gottheimer thinks he is "Superman," because he has positioned himself as a moderate Democrat. Endorsed by teachers unions and Presidents Obama and Biden.
However, as the Biden administration's polling numbers are sinking faster than that speeding bullet, and redistricting that favors a Republican, this seat is one for the win.
Frank Pallotta is the most recognizable name in the race.  The 2020 candidate lost by single digits and the 5th District is one of 30 across the nation that voted for Donald Trump in 2016 supported and Jack Ciattarelli won the district last year in the close gubernatorial race.  Over 30 local mayors and elected officials have already endorsed Pallotta.
Gottheimer knows he is vulnerable and according to Pallotta has actually "bullied" his opponent, while claiming to be targeted by anti-Semites.  "Nothing can be further from the truth, and even the press has picked up on Gottheimer's false allegations."
According to Pallotta, Gottheimer accuses and attacks him routinely.  "For example, in a live debate in September 2020 Josh accused me of bringing an "oath keeper" on to my campaign ahead of the election, referring to him as a senior advisor. (and naming him). Not only was this gentleman NOT an oath keeper (and Josh knew that), but he wasn't even on my team.  Yet  Josh and his campaign continue to refer to my supporters as racists, and white supremacists. The gentleman that was being accused, nearly lost his job as a result.
In his most recent "accusation" Josh claimed that people were screaming "Jew" at him while he was exiting a meeting he attended near his office in Glen Rock.  More than 2 dozen people in the crown (largely Jewish), said they heard no such language. There is even video of the whole incident which clearly indicates nothing like that was said. Only Josh Gottheimer and the woman he was with, claims to have heard it. People (including many Democrats) then stepped forward with cell phone video to prove him wrong."
Issues
Frank Pallotta is a constitutionalist.   Informal polling shows Pallotta's support among rural neighborhoods is strong, in fact it's impregnable. He supports second amendment rights, lower property tax and residents want to see their agriculture industry rejuvenated. Pallotta is the choice for Sussex, Passaic voters. When coerced by establishment types to trade favors, Pallotta refused. Frank built his own base in 2020 and it grew in 2021.
According to a Pallotta supporter, Josh Gottheimer is hugely unpopular in Sussex and Warren counties. Gottheimer trades his political favors for support-there is nothing "bi-partisan" about him except when it's good for him personally. He lures businesses into his circle by promising a grant or a loan, but does not build sustainable economic engines, bring in jobs, or fight for better taxes. Gotthiemer shows up at events, makes a media related statement and there is no proof that the promises made were actually kept.
Where was Gottheimer during the great power outage of 2019, when over 30,000 people had no heat? Where was Josh when our police were under attack by the left? Gottheimer supports CRT in the schools and the anti-religious themes of the far left. His voting record and silence about disciplinary actions against progressive in his party prove it.  It's a public record.
Pallotta's business success is being touted as a bonus as inflation is the number one issue for the 2022 elections.  In 2008, Pallotta founded New Jersey based Steel Curtain Capital Group, LLC, a mortgage advisory and consumer marketing firm that specializes in managing residential mortgage risk through the use of consumer marketing and outreach strategies. He previously was employed by Goldman Sachs, Credit Suisse and Morgan Stanley, where he was managing director and co-head of US residential business.
President Trump endorsed Frank Pallotta in 2020 and I am suggesting you watch what happens. In New Jersey, they flip more than tables, they flip seats red.