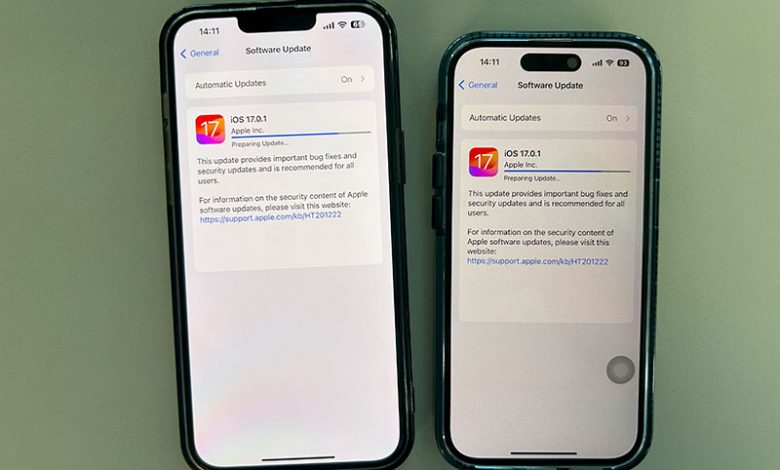 Introduction: Evaluating the Decision to Upgrade to iOS 17
The excitement cannot be understated as Apple is about to unleash its latest software: iOS 17. With it comes intriguing new features and enhancements aiming to improve user experience. Nonetheless, as the software release lurks around the corner, many iPhone users are caught between two choices; should they hastily install the new iOS 17 software or exercise caution and delay the upgrade? Both decisions hinge upon vital considerations, creating even more suspense around the software's rollout.
The decision to upgrade or wait
Similar to various life situations, the decision to upgrade to iOS 17 or postpone it is dependent on multiple individual factors. One major consideration is the official release date of the software. Based on Apple's original announcement at the Worldwide Developers Conference, iOS 17 launch is expected sometime within the year. With the recent unveiling of iPhone 15 at the Apple Wonderlust event, it is highly likely that the software release will be scheduled just before the new phone's shipping date on September 22. Notwithstanding, tech analysts suggest it could drop even sooner.
The apprehension towards possible glitches and bugs
While the promise of an exciting new software can spark temptation to upgrade immediately, the potential for unexpected glitches and bugs gives some users pause. Early adopters often face minor issues, however, Apple typically provides prompt fixes. Furthermore, new software releases commonly lead to reduced battery life, adding another layer of concern for those considering an immediate download after launch. Given these factors, users are right to question whether to wait for others to test the waters first, perhaps waiting for iOS 17.1, which not only promises bug fixes but possible additional features.
Who Should Upgrade to iOS 17 Immediately
For those with less concern about possible bugs and battery drain, the appeal of being among the first to utilize the new software is irresistible. These users might upgrade to the iOS 17 beta version as a test drive, determining if it suits their needs and circumstances before the full version release.
Exercising caution: Waiting for reviewed updates
On the other end of the spectrum, some users prefer to let the early adopters work through the initial problems and fixes. These people might choose to wait for iOS 17.1, a version that likely not only addresses bugs but introduces further features not included in the original iOS 17 drop. A lack of clarity on the 17.1 release date does complicate this approach to the decision.
Key Updates and Features of iOS 17
iOS 17 represents a major advancement in Apple's operating software, encompassing a variety of key updates and features designed to enhance and personalize the user experience for iPhone users. These novel elements stretch across core areas such as communication, sharing, functionality, and sound.
Live Voicemail and Sticker Central
With iOS 17, the software introduces a personalized look for every caller. The individual making the call is permitted to modify their display, creating a fun and customized communication experience. Moreover, this version incorporates fresh enhancements like StandBy, which transforms a horizontally placed iPhone into a mini home hub displaying information such as calendars, time, and more. This innovation encompasses Sticker Central, an exciting feature that liven up your visual communication.
FaceTime Messaging and Easy Contact Sharing
Effectively bridging the gap between communication methods, iOS 17 brings significant updates to FaceTime and Messaging. Furthermore, the enhanced AirDrop and newly added NameDrop function facilitate rapid sharing of contacts, while allowing two iPhones to trigger a SharePlay session just by holding them together. This makes sharing experiences even simpler and more interactive.
Improved Autocorrect and Adaptive Audio
Intelligence is an integral aspect of iOS 17, with an array of tools designed to boost speed and accuracy of typing, including an improved autocorrect. The software also introduces Adaptive Audio, a new feature bound to improve user experience for AirPods Pro 2 users, adjusting audio based on environmental factors.
Message Transcriptions and Location Sharing
Transcriptions provide a written record of your messages, an essential addition for those who need to reference their conversations later. Additionally, enhancements to location sharing allows for a smoother, more efficient way to let others know where you are when needed.
Sticker Drawer and Browsing Profiles
Sticker Drawer allows for easy access and use of stickers in your messages, adding a perfect touch to express your feelings digitally. Additionally, browsing profiles can now be done with greater ease, thanks to the new features of iOS 17, creating a more personalized and intuitive user experience.
Safety Measures and Precautions on iOS 17
There are a multitude of reasons for iPhone users to update to iOS 17, primarily centered on the appealing new features and improvements to privacy, security, and accessibility. As with any major software update, it's important to be mindful of safety measures and precautions to protect your data, as the new software brings enhanced settings and features meant to upgrade the security and safety of your personal information.
Backing Up your Device with iCloud
Before opting for the upgrade, it's crucial to back up your device. This can be punctually done using iCloud, guaranteeing a reliable copy of all your information. This process ensures a seamless transition even if an unforeseen complication occurs during the update.
Sensitive Content Warnings and Communication Safety
iOS 17 offers several significant privacy and security features, including a sensitive content warning system, which blurs sensitive photos and videos sent to you when enabled. This feature can be found in Messages, AirDrop, Contact Posters, FaceTime messages, and even third-party applications, making communication safer than ever before. However, it's crucial to stay vigilant — while these tools aim to protect you from harmful content, they are not foolproof, and some potentially harmful messages may still make their way into your inbox.
Improved Permissions and Expanded Lockdown Mode
Beyond content warnings, iOS 17 extends user control over permissions for privacy. It now allows selective photo sharing within apps while keeping the remaining collection private. Furthermore, it enables apps to add events to your calendar without gaining access to your other events. The expanded Lockdown Mode solidifies security to shield your device against sophisticated cyber attacks, now even encompassing your Apple Watch. Apple's innovative approach to user safety is manifested in this feature and is a major stride towards reassuring iPhone users of their security.
Messages Check-In Feature and Other Safety Enhancements
Communication safety gets a boost with an improved version of the 'Messages' app, that includes a 'check-in' feature for user safety. Other beneficial updates provide further safety measures, making your device safer, subtle, and user-friendly. This sets the stage for a more secure communication experience for all users, whether they choose to update immediately or wait until a later point.
Compatibility and Installation Process for iOS 17
Once the decision to upgrade to iOS 17 is made, the next step is to understand the compatibility and installation process. This involves reviewing the list of compatible devices, ensuring your device is eligible for the upgrade, and then navigating through the installation process. It's important to bear in mind that a new update often brings fresh navigation and user experience adjustments.
Installing iOS 17
Upgrading to iOS 17 is a process that calls for full awareness of the potential risks, including glitches and bugs. Prior to initiating the update, it's essential to back up your device as safety precaution. Subsequently, for installing iOS 17, you need to sign up at beta.apple.com. On your iPhone, navigate to Settings, then tap on General, followed by Software Update, and then Beta Updates. Here, select "iOS 17 Public Beta," return to the previous screen and hit Download and Install. This proactive testing of the beta version can provide a firsthand experience of the features and performance, helping to gauge if an immediate upgrade or a wait-and-see approach is best for your individual needs.
List of Compatible Devices
While it is anticipated that iOS 17 will be compatible with most recent models of iPhones, the specific list of compatible devices generally isn't released until closer to the software launch. Therefore, keep an eye on Apple's official communications or trusted tech sites to find out if your device is eligible for the iOS 17 upgrade.
Navigating the new software and shared user experiences
Every major software release typically carries a learning curve when it comes to navigation and daily use. iOS 17 is no exception as it upgrades the communication experience across Phone, FaceTime, and Messages; enhances sharing with easier AirDrop function; and introduces new apps like Journal. Further, the StandBy feature provides glanceable information when iPhone is set down and charging. As you explore the features, remember that shared user experiences on online forums and communities can provide invaluable tips and solutions for navigating the new software. Being part of these communities, especially if you're an early adopter, can greatly improve your iOS 17 experience.