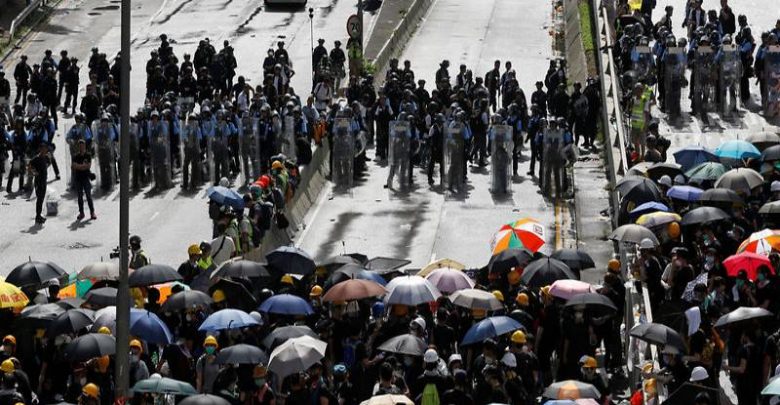 Hong Kong protesters stormed the legislature building on the 22nd anniversary of the city's 1997 return to Chinese rule on Monday. They smashed up paintings, doors and walls amid in protest over a controversial proposed law that would allow extraditions to China. Equipped with road signs, about a thousand protesters gathered around the Legislative Council building in the Center of Hong Kong's financial district.
A small group of students wearing hard hats and masks had used a metal trolley and scaffolding to charge towards the facility's reinforced glass doors which eventually caved in.
The mini-parliament issued what is called a red alert, ordering the protesters to leave immediately. Riot police in helmets and carrying batons fired pepper spray as the standoff continued into the evening. Demonstrators removed steel bars that were protecting building.
Banners hanging over flyovers at the site read: "Free Hong Kong."
The protesters, some with protectant wrapping around their arms to protect their skin from tear gas paralyzed parts of the Asian financial hub as they occupied roads and blocking them off.
Hong Kong leader Carrie Lam suspended the extradition bill on June 15 after some of the largest and most violent protests in the city in decades, but has not yet yielded to the public demands to scrap it.
The Beijing-backed leader is now clinging to her job at a time of backlash against the government that poses the greatest challenge to Chinese leader Xi Jinping since he took power in 2012.