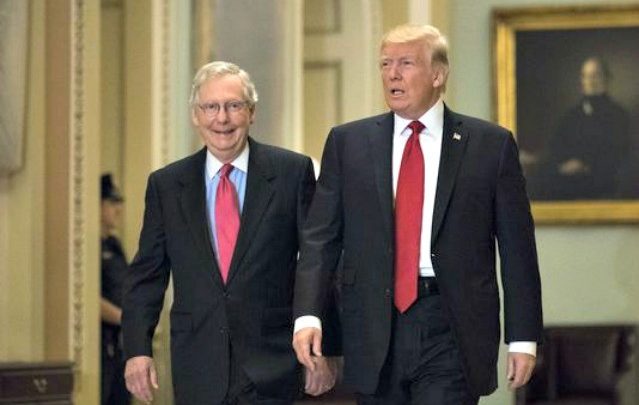 Government
Mitch Goes Nuclear: Court Reshaping Expedited
In 2 Plus Years, Many Nominations-Not Many Confirmations
Times have changed the opinion of former Senate Minority Leader Mitch McConnell on several issues. Back in 2013, when he was playing 2nd fiddle to then Senate Majority Leader Harry Reid, McConnell had a serious problem with some of the tactics deployed by Reid as he worked to advance the agenda of former president Barack Obama.
Oh, time certainly does change people. On Wednesday, current Senate Majority Leader Mitch McConnell decided to employ the use of the so-called 'nuclear option,' and will change the Republican-controlled chamber's rules to expedite the approval of new judges nomimated by President Donald Trump.
The Democrats have been accused of stalling on the confirmation process as the Trump administration has been very aggressive in nominating wave after wave of new Judges awaiting some semblance of bipartisanship to assume their new positions in the various circuit courts nationally.
"It's time to return this body to a more normal and reasonable process for fulfilling its constitutional responsibilities, no matter which party controls the White House," McConnell said.
"The legislative filibuster is central to the nature of the Senate,' McConnell continued. 'It always has been and must always be the distinctive quality of this institution."
Some legislators on the left were predictably angry with the development, including  Democratic Senator Ron Wyden of Oregon, who said "It's going to make it easier to rush unqualified and extreme Trump nominees to the Senate before anybody notices."
The party that controls the Senate and White House holds the power to shape the courts. Obama and Reid did it, now the Democrats must accept this consequence of losing control of the upper chamber of Congress in 2014 and the White House in 2016.