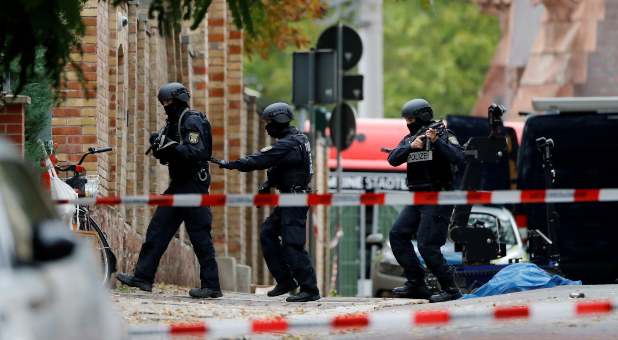 An attacker killed two people in a synagogue and nearby kebab shop in Halle, Germany, after an anti-Semitic manifesto online.
The perpetrator live streamed both his manifesto and the attack itself, in which a woman was killed outside the synagogue and a man in the kebab shop, additionally two people were injured, however their lives are no longer in danger, regional broadcaster MDR informed.
"I think the Holocaust never happened, feminism is the cause of decline in birth rates in the West. The root of all these problems is the Jew," were the words of the murderer, shortly before committing the deed.
A spokeswoman for Twitch – a live streaming platform under Amazon, said: "We worked with urgency to remove this content and will permanently suspend any accounts found to be posting or reposting content of this abhorrent act."
Witnesses and people inside the synagogue, as well as the footage that was live streamed and security camera footage, show the man in combat garb with a gun, trying to open the synagogue's doors, giving up when he couldn't and shooting a passer-by woman, afterwards directing his attention to the kebab shop, where an explosive was thrown, followed by gunfire.
"We saw via the camera system at our synagogue that a heavily armed perpetrator with a steel helmet and a gun tried to shoot open our doors. The man looked like he was from the special forces … But our doors held. We barricaded the doors from inside and waited for the police," Max Privorozki, Halle's Jewish community chairman said about the events that took place, adding that at the time there were 70 to 80 people present inside the synagogue celebrating Yom Kippur.
"He was very calm, like a professional. He didn't say anything. He just kept coming and shooting … I was hiding behind the salad counter," said Rifat Tekin, an employee at the kebab shop, who was making food for two construction workers when the incident occurred.
With anti-Semitism being a sensitive issue in Germany, dating all the way to back to World War Two, the government was outraged by the attack and intends to take more strict measures against anti-Semitic violence.
"That on the Day of Atonement a synagogue was shot at hits us in the heart. We must all act against anti-Semitism in our country," Foreign Minister Heiko Maas tweeted.