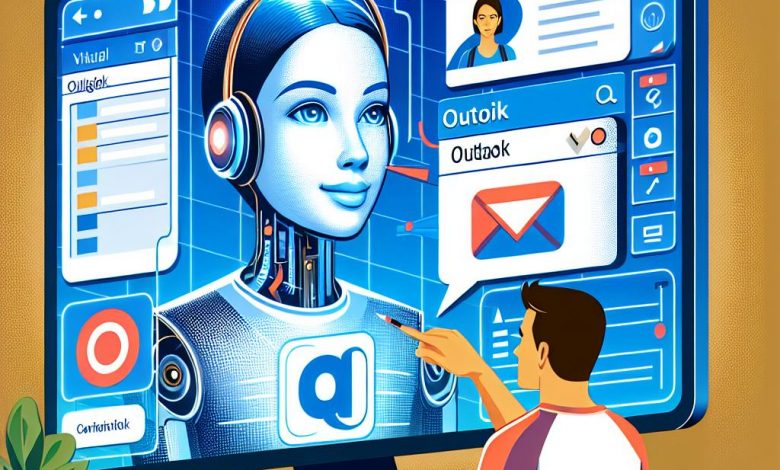 Check the Default Location of Templates
To identify the cause of Outlook templates disappearing, begin by checking the default location of the templates on your system, in case they have been inadvertently moved or deleted. Here's how to do it:
Select the "Start" button on your computer, type the file path %appdata%\Microsoft\Templates\ in the search bar, and press Enter. This will bring up the Windows Explorer view showing all your custom templates from older versions of Office.
If you can not locate the folder, your templates folder may be corrupted or deleted. You may need to create a new one or repair your existing folder.
Navigate to My Documents > Custom Office Templates in Windows Explorer
If your templates have been moved, follow these steps to retrieve them:
Select all visible files and folders in the default office templates folder, then press Ctrl+C to copy them.
Navigate to the destination My Documents > Custom Office Templates in Windows Explorer.
Press Ctrl+V to paste the files and folders you copied across. After doing this, your templates should be back in their correct location.
Settings Check for Office 365
If you are a user of Office 365, you may need to check some settings to ensure your templates are appearing correctly:
Click on File > Options > Add-ins, and verify that the option selected is COM Add-ins.
When you click on New Email to create a new message, check if the Office Add-ins button appears in the Message tab.
If the Office Add-ins button is visible, check if the templates can be found in My Templates.
If your email account is Office 365, click on Manage My add-ins which will take you to the OWA manage apps page.
If you are not able to see the Office Add-ins button, log into OWA directly and click the gear icon > Mail > General > Manage add-ins.
Ensure that the 'My Templates' check box is ticked.
Update Outlook
If none of the above solutions work, verify that you are using the latest version of Outlook, as outdated versions may have compatibility issues with your templates. Navigate to File > Office Account and check the Product Information for your Outlook version.
Disable Third-Party Plug-Ins in Outlook
Another reason for the disappearance of templates in Outlook might be a conflict with other third-party plug-ins you might have installed. You can disable these add-ins to troubleshoot whether they are the cause of your Outlook templates disappearing.
Steps to Disable Third-Party Plug-Ins:
Open the Outlook application on your computer.
Proceed to the "File" menu on the top-left corner of the navigation bar.
Select the "Options" tab to open the Outlook Options window.
In the Outlook Options window, find and click the "Add-Ins" section.
At the bottom of the window, you'll see a dropdown list next to "Manage". Click it and ensure COM Add-ins is selected, then click the Go... button.
In the COM Add-Ins window that opens, you'll see a list of all add-ins currently active. Uncheck the checkboxes next to all add-ins to disable them.
Click "OK" to close the window.
Restart Outlook and check to see if the issue of disappearing templates has been resolved.
If the templates are working fine after this, one or more of your add-ins may have been causing the issue. You can now enable them one by one to see which one causes the problem.
Check Internet Connection
Templates in Outlook may fail to load or load slowly if your network connection is poor or unstable. If using multiple internet connections, such as Wi-Fi and a corporate VPN, issues may arise as Outlook may switch between these connections unpredictably. This could lead to templates loading for some users and not for others, depending on the network connection each one is using.
How to Check Internet Connection
Navigate to Control Panel → Network and Internet → Network Connections to check what network connection is currently used by your system.
If your company uses a corporate network and your Outlook is connected through it, reach out to your network administrators.
Ask them to add two enabling rules for the domains: https://email-templates.app & https://*.email-templates.app. This could potentially fix the issue of slow or non-loading templates.
Create a New Profile and Migrate Data
If all the previous methods fail and Outlook templates are still disappearing, you may need to create a new profile and migrate your data. This could resolve the issue if it's originating from a corrupted profile or settings.
Steps to Backup and Delete Associated .ost file:
Open Outlook application and go to the "File" menu on your screen.
From the drop down, select "Account Settings" and then again "Account Settings".
A dialogue box will appear. Go to the "Data Files" tab and select your email account. Here, you can see the path to the associated .ost file.
Make a copy of the .ost file in another location as a backup.
Then delete the .ost file from its original location.
Close the Account Settings and Outlook application.
When you re-open Outlook and log into your mail account, it will start the syncing process again, creating a new .ost file in place of the deleted one.
Steps to Create a New Profile:
If the problem still persists, it's time to create a new profile:
Go to 'Control Panel', then 'Mail', and select 'Show Profiles'.
Click on 'Add', and type a name for the new profile.
Follow the instructions of the email account setup wizard.
Once your new profile is set up, tick the 'Always use this profile' box, select your new profile from the dropdown list, and click 'OK'.
Note that creating a new profile will not delete your old one - it will still be there should you need to refer to it.
Repair the Office App
Occasionally, the issue of disappearing Outlook templates could be a result of corruption within your Office programs. Running a repair of the Office applications can often resolve these issues.
Steps to Repair the Office Application:
Press the 'Windows Key + R' to open the Run command.
Type "appwiz.cpl" into the Run box and hit Enter. This will bring you to the 'Programs and Features' section in the Control Panel.
Within the installed programs list, locate your Microsoft Office installation and click on it.
At the top of the window, you will see an option marked "Change". Click on it.
This will open a dialog box. Here, you will see the "Quick Repair" option. Select it and then click the "Repair" button.
Follow the on-screen instructions to complete the repair process.
Once the Quick Repair is complete, restart your machine and attempt to use the email templates in Outlook again. The issue of disappearing templates should now be resolved.