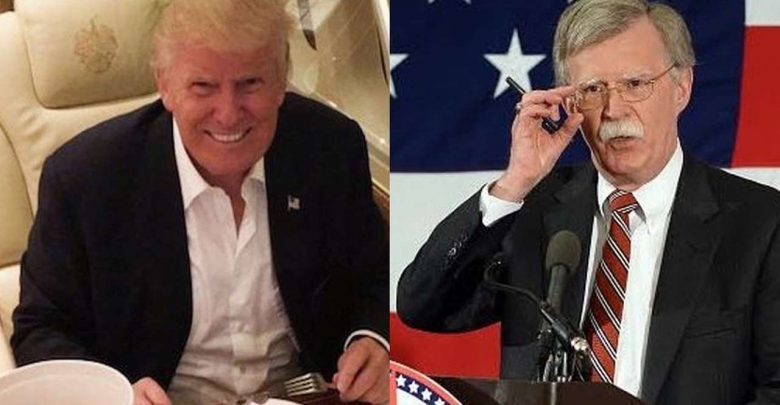 Headline
Pennsylvania Avenue Precinct: Are Trump and Bolton Playing "Good Cop, Bad Cop on Iran?"
John Bolton Proclaims "deep and serious" intelligence on threats posed by Iran
Good Cop, Bad Cop?
The Dragnet known as "Pennsylvania Way Precinct" looks to be running a misdirection play on the perps. Bolton sounds like he wants immediate action regarding possible eminent threats. Trump thinks the Iranian regime can be reformed and added, "It has a chance to be a great country with the same leadership," Trump said. "We aren't looking for regime change -- I just want to make that clear. We are looking for no nuclear weapons."
No nuclear weapons? Like the ones sought after by the North Korean Government? The same North Korea that just proclaimed that John Bolton is a "War Monger." They say President Trump is playing 4D chess and when the news cycle suddenly portrays America aggressively, weaker countries blink.
Trump can refuse to enable a nuclear Iran and be called a fossil fuel champion by an increasingly larger number of man-made climate change fanatics. He can run against a "Green Deal" light that will be remade as far less radical tool that continues a still inevitable march towards full socialism. Or, he can look to foster bi-partisanship in a new deal that ensures that Iran never creates or procures a Nuclear weapon.
This will certainly enrage critics of Obama's "Iran Deal," that had no-no's that the Trump administration can avoid, like replenishing the coffers of the universally acknowledged, global leader in terrorism sponsorship. But, if the development of alternative energy sources can be privately funded in Iran, Trump can score ultimate victory by quieting the sizable base of "green" voters.
The exact details of Bolton's "Deep and Serious" intelligence is still yet to be known, but the accidental endorsement of Korean Kim puts America in a great position to negotiate.
Another matter to consider is our complicated relationship with Saudi Arabia. Many sectors within our domestic economy are dependent on Tehran's main rival. Saudi Arabia has blamed a recent slew of attacks on Iran, which denies the accusations further complicating the situation.
As of press time, the United States has deployed a carrier strike group and bombers to the Mideast region and an extra 1,500 troops to the Gulf.