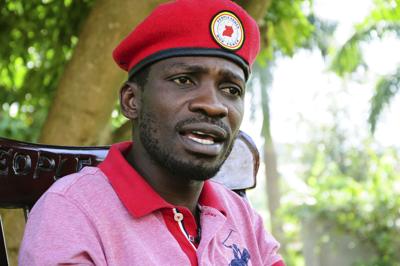 You can bet some Democratic legislators, knowing their hated for the preferred cap of Trump supporters, are already getting ideas from this story…
Last month, the government of Uganda declared that the red beret, used by pop star Bobi Wine, now a presidential candidate, could send you to prison for life, declaring it "property of the state" and prosecution faces anyone who wears or sells the hats.
"This beret ban is a sham. It is a blatant attempt to suffocate a successful threat to the autocratic status quo," Wine, whose real name is Robert Kyagulanyi, said regarding the ban.
"But People Power is more than a red beret, we are bigger than our symbol. We are a booming political movement fighting for the future of Uganda and we will continue our struggle democracy," he added.
The pop star got into politics and became a legislator in 2017, announcing in July he would run for president. He's won support of primarily the Ugandan youth, with critiques of Museveni, the current president, in his song lyrics. The explosion of popularity in a new possible threat to Museveni's reign has resulted in a lot of Wine's rallies being broken up, with some supporters jailed and Wine himself being beat up during a campaign last year.
The presidential elections in Uganda won't be until early 2021 at least, however Museveni has yet to declare his re-election bid, despite the fact that he has been in power since 1986 – almost 35 years.