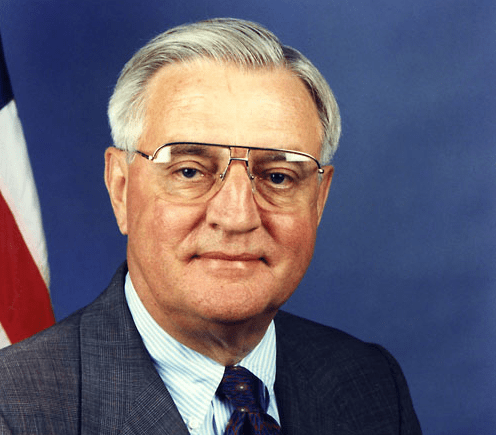 Former Vice President Walter F. Mondale passed away on Monday at age 93. Mondale was an accomplished statesman who served his tenure as Vice President under the Carter administration.
Jimmy Carter released a statement on Monday night, pricing Mondale for providing the U.S. with a model for public service and private behavior and calling him "the best vice president in our country's history."
President Joe Biden also appraised Mondale for his political achievements, admitting that "it was Walter Mondale who defined the vice presidency as a full partnership, and helped provide a model for my service." 
Political Accomplishments 
One of the most memorable aspects of Mondale's political life was his run for the presidency in 1984 when he tried to win voters with promises for a tax increase. His bluntly told remarks cost him the victory as he lost one of the most lopsided presidential elections in history, with the electoral vote being 525-13 for Reagan
However, years after the elections, Mondale commented that his campaign, although unpopular, had proven to be the correct one. "History has vindicated me that we would have to raise taxes," he said.
After winning presidential elections as Carter's No.2 in 1976, Mondale became the first vice president to occupy an office in the White House rather than in a building across the street. He had a close relationship with Carter, with Mondale advising the president on domestic and foreign affairs, as well as traveling on Carter's behalf
After his White House years, Mondale continued to serve the country as the U.S. ambassador in Japan (1993-96). He fought for an open market and helped avert a trade war over autos and auto parts by persuading Japanese officials to allow American automakers more access to Japanese dealers, as well as convincing Japanese carmakers to buy American parts.
Personal Life
In 1955 Mondale married his wife Joan Adams Mondale, who minored in art in college and later worked in museums in Boston and Minneapolis. During his vice presidency, Mrs. Mondale gained the nickname "Joan of Art" for her hard work on securing more government support for the arts
The couple had two sons, Ted and William, and a daughter, Eleanor. Both sons took after their father, choosing to serve their country, with Ted serving six years in the Minnesota Senate, and William served for a time as an assistant attorney general. Eleanor Mondale, who died of cancer in 2011, was a successful broadcast journalist and TV host.