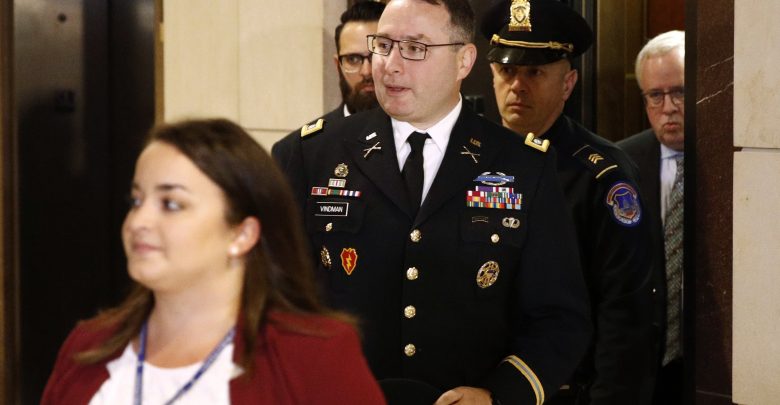 Headline
Vindman or Sondland: Who's Telling the Truth?
Alexander Vindman, a decorated veteran and lieutenant colonel with experience in Iraq, provided testimony regarding the July 25 call between President Trump and Ukrainian President Zelensky.
Prepared testimony was obtained by the Associated Press who revealed Monday night that Vindman said:
"I was concerned by the call. I did not think it was proper to demand that a foreign government investigate a U.S. citizen, and I was worried about the implications for the U.S. government's support of Ukraine."
Being the first official from the White House to testify, Vindman, who listened in on the call, had several statements to make, some which raise potential questions on his allegiance, seeing his position as one that worries more about Ukraine rather than the United States – something former GOP Rep. Sean Duffy pointed out on CNN - "It seems very clear that he is incredibly concerned about Ukrainian defense. … I don't know that he's concerned about American policy, but his main mission was to make sure that the Ukraine got those weapons."
Vindman served both military and diplomatic posts before joining the NSC, having been a director for European affairs and a Ukraine expert under Fiona Hill, another official who testified in the impeachment probe. One key point comes in when it got out that what Vindman says differs quite a lot from what Gordon Sondland says – one side claiming that a request to investigate the Bidens is inappropriate, while the other saying that no concerns were expressed by anyone from the NSC.
The military officer's testimony will also include the fact that he has nothing to do with the whistleblower and has no knowledge or who it could be.
A day earlier, House Speaker Nancy Pelosi made an announcement that a vote on a resolution to affirm impeachment investigations will finally be held, adding that rules for public hearings will be set and an outline will be made for potential process for writing articles of impeachment against Trump. She also addressed Republicans who say impeachment can't begin without formal approval, and their complaints about the process so far.
"I do not care. I do not care. This is a false thing with them. Understand, it has nothing to do with them. It has to do with how we proceed," Pelosi said, taking Republicans' concerns and dismissing them as if they do not mean a thing.