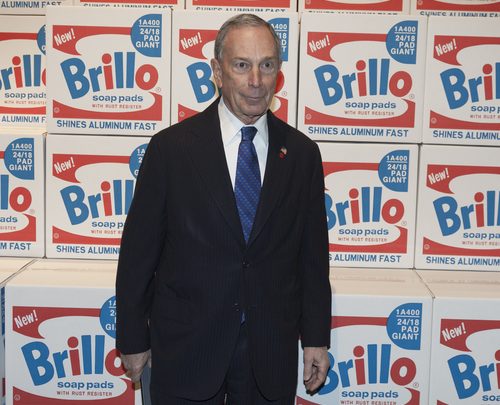 Who is Michael Bloomberg?
Former New York City Mayor Michael Bloomberg has recently thrown his hat into the ring of Presidential politics, and right out of the gate he's making a Huge splash, as his arrival has come complete with an estimated 100 million dollars' worth of purchased campaign ads as he attempts to play catch-up in the crowded field of 2020 democratic hopefuls.
Democrats have cheered the arrival of Bloomberg into the race as to many, the Billionaire represents their best hope for taking down President Trump, the man liberals love to hate and are hell bent on attempting to remove from office.
But have liberals really done their homework on Mike Bloomberg? Is the excitement surrounding his entry into the race indicative of their feelings on Bloomberg as a Candidate and potential president, or does it have more to do with their outright hatred for the current Commander in Chief, you know, the guy who is supposedly an authoritarian dictator and a misogynist and is going to lead us into WW3 and probably eats puppies and so on…
Well if you weren't aware, here are 3 FACTS about Michael Bloomberg you may have forgotten:
1. Michael Bloomberg was a Republican. Wait, what? Yes, between 2001 and 2007, Michael Bloomberg served New York City as the GOP Mayor of the Most populated city in America. In 2001, As Bloomberg's political aspirations grew, and on the heels of 2 wildly successful terms from former mayor Rudy Giuliani that saw New York City crime rates drop and the installation of a new and successful school choice voucher-based education program, Bloomberg decided to jump on the GOP Bandwagon. After essentially buying the mayoral primary by spending a whopping 73 Million dollars on his campaign, he went on to ride Giuliani's coattails to his first term in office. Bloomberg's time as a Republican would be limited however, as 2007, the year after the republican party got trounced in George W Bushes last mid-term election would see Bloomberg leave the party to become an Independent.
2. Democrat detractors of Donald Trump love to accuse the president of having so-called authoritarian tendencies. They call him the Dictator-in-chief, they even go so far as to say, "If we don't impeach and remove the President from office and he wind reelection, he may even try to get a 3rd term one day! But do those detractors remember the time, that when faced with the end of his 2nd and final term as Mayor of New York City, Michael Bloomberg announced he would seek to extend the city's term limits law and run for a third mayoral term in 2009, arguing that his leadership was needed following the financial crisis in 2007 and 2008. Bloomberg said at the time, "Handling this financial crisis while strengthening essential services ... is a challenge I want to take on," "So should the City Council vote to amend term limits, I plan to ask New Yorkers to look at my record of independent leadership and then decide if I have earned another term." Political Activist Ronald Lauder, who previously had campaigned for New York City's term limits in 1993 and spent over 4 million dollars of his own money to limit the maximum years a mayor could serve to eight years, would magically side with Bloomberg in his bid for a third term and agreed to stay out the term limits debate in exchange for a seat on an influential city board promised by Bloomberg. Quid Pro Quo is Magical indeed. And as far as that whole, argument that his leadership was needed in NYC for a 3rd term, according to the Los Angeles Times, "Bloomberg's record has also come under harsher scrutiny since he left office. Steep increases in the cost of housing have squeezed the middle class. While race relations improved, the Police Department's use of stop-and-frisk tactics disproportionately affected black and Hispanic residents, and was deemed unconstitutional. The city's public schools, which the state put under the mayor's control during Bloomberg's first term, remain uneven. Public housing deteriorated under Bloomberg's watch; poverty rose; and the city's jail, Rikers Island, became a byword for chaos and violence."
3. The left loves to accuse Donald Trump of having misogynistic tendencies and we all remember what the President said in what was supposed to be a Private Conversation with Access Hollywood's Billy Bush, but will these democrats acknowledge the fact that close to 40 lawsuits have hit Bloomberg LP, Mike Bloomberg's Media company, with most concerning harassment, discrimination and male executives targeting "young, female, naive employees." Some cases involve even drugs and alcohol – such as suits from two female employees, saying they left the company after being plied with alcohol and sexually assaulted by a colleague.
Another suit from 2016 sees the case of Margaret Doe accusing her male boss of rape and intoxicating her with drugs, under the threat that if she refused to sleep with him, she would be fired. The woman further explained that Nick Ferris, a former sales manager in the media company, got her addicted to drugs, and that a "rampant drug culture" was present within the company. Closely related to Doe's case, a female executive in the company had also filed a suit regarding her termination, saying she was forced out of Bloomberg LP after discovering and witnessing Ferris harassing Doe. Other accusations were made directly at Michael Bloomberg, who is accused of leering at female employees and making offensive, sexist comments like: "If you looked like that … I would do you in a second." And "I would like nothing more in life than to have Sharon Stone sit on my face." Bloomberg's team has responded to this, in a statement to the New York Times, revealing that the 2020 candidate has come to realize that "some of what he has said is disrespectful and wrong." Well thank God for that.
Its obvious that regardless of the cover that the media has provided for Michael Bloomberg over the years, he has shown himself to be a failure as a politician, an ideological flip-flopper and someone you probably wouldn't want your wife or daughter to work for.