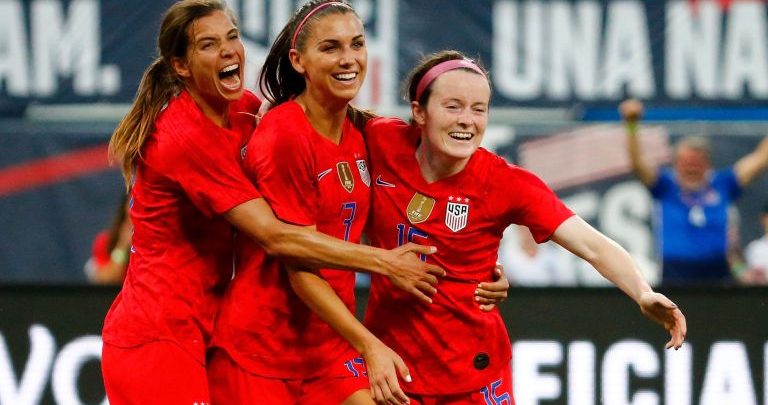 In their opening match in the 2019 Women's FIFA World Cup, the United States women's national soccer team (USWNT) made history. They scored 13 goals in one match, defeating Thailand 13-0.
Thailand is not a soccer powerhouse. But that scoreline is the most dominant scoreline ever in any FIFA World Cup match – men's or women's.
They were dominant. They were slick. They were creative. They were irresistible.They were American.
And they enjoyed themselves, celebrating every goal.
Some people have a problem with this. Some suggest scoring so many goals, and celebrating all of them, demonstrated unsportsmanlike behavior. Would they dare say such things to a male end-zone dance? Or a Steph Curry shimmy after he drains a three pointer in someone's face? Absolutely not.
They are wrong. Stupidly wrong and soft-headed. The critics should get off Twitter, stop trying to shame our winners, and do something useful with their lives.
Imagine yourself in Alex Morgan's position. Morgan is America's lead striker. She has spent her entire life working for this moment. At age 29, this could be her last World Cup as the starting striker on the world's strongest women's soccer team. Between age, possible injuries and the rising younger stars on the team, she could either find herself on the bench or even off the team four years from now. Sydney Leroux Dwyer, her former strike rival and partner in the last couple of tournaments, retired from the USWNT to have a family. Sports careers are short. Let them enjoy this.
But this year Morgan is the star. All the action flows through her. And in the Thailand match, she had about seven clear chances to score. She buried five of those, (actually six, but one was ruled offside) matching records previously set by fellow American Michelle Akers in the 1991 World Cup, and by Russian Oleg Salenko in the men's 1994 World Cup. If you were Alex Morgan, and had those opportunities to make history, wouldn't you take them? Or should we not let Bryce Harper be Bryce Harper, with a ridiculous bat-flip as he admires a mammoth home-run shot into the atmosphere? Let Alex Morgan be Alex Morgan.
Wouldn't you savor your goals? Of course you would. After Morgan scored her fourth, she looked both stunned and rapturous. She celebrated. She counted on her fingers – one, two, three, four – and looked like she couldn't believe what was happening. Her feet and head had the golden touch. Most humans never experience a day like that. Morgan will remember it forever. Let her enjoy it. Enjoy it with her.
The first match of any major tournament always involves nerves, especially for a heavy favorite like the USWNT. Every other team is watching, looking for gaps and weaknesses. The USWNT shook off any nerves they may have had and formed a juggernaut. They also showed respect for Thailand, by not going easy on them. Crushing the Thai team was the honorable thing to do, deal with it. Additionally, more goals may help the USWNT in the unlikely event they have a tie on points after the group stage. Goal differential is a tiebreaker, and the USWNT sit at a daunting +13 after one match.
On another hand, imagine you're Jill Ellis. Ellis took over as coach of the USWNT after Pia Sundhage stepped down in 2014. Sundhage led the USWNT to the finals in 2011, which they lost on penalties to Japan. Sundhage resigned and returned to coach for her native Sweden, and took advantage of her knowledge of the USWNT to knock them out of the 2016 Olympics. Ellis did lead the USWNT to victory in the 2015 World Cup, but many saw that team as still more Sundhage's creation than Ellis's. It was Ellis' team that lost in 2016. This World Cup is Ellis' time to win, yet just days before their first match, former goalkeeper Hope Solo publicly attacked Ellis's leadership. Solo, the all-time greatest goalkeeper in the women's game, said Ellis is "not the leader I wish her to be. She relies heavily on her assistant coaches. She cracks under the pressure quite a bit." So coming into this World Cup, Ellis finds herself under double pressure – the opening match, and getting fragged by her former 'keeper, with the 2016 defeat lurking in the background.
The match versus Thailand was a dominant team performance. It was also a statement. In their opening match, host France put on a show. The French crushed Korea, 4-0. Like the Americans, they led by three at the half and looked set to stroll. But while the French succumbed to tiredness and lethargy in the second half, the Americans found three or four more gears, netting 10 goals in the second 45 minutes. The French, the Japanese, the Germans, the Canadians, the English and the Swedes are among the teams that might challenge the Americans. What will they make of 13-0?
Always defeat your opponent with overwhelming force if possible.
The artillery the USWNT landed against Thailand put every other team on notice: Not only are the Americans back from their stunning 2016 Olympics defeat, and not only are they ready to take on anyone – they are ready to make history.
Teddy Roosevelt probably summed up the USWNT's situation best: It's not the critic who counts...but the man (or in this case, women) in the arena.
Let's face it: The American men's soccer team is in disarray. They recently lost a friendly to Venezuela on home soil, 3-0. They defended like schoolboys and had no teeth in the attack. They missed the last men's World Cup and fired the coach. They're limping into this summer's CONCACAF Gold Cup.
The USWNT team are our warriors on the soccer pitch in the world's game. Megan Rapinoe's showy anti-Trumpism and national anthem spurning aside, they represent us and they represent us well. They and all of us should ignore their critics and cheer them on. The Thailand match was just the first in the group stage, after all: The USWNT will need their fans - not the carping critics - if we want them to bring home the silverware.
So let's let the ladies be flashy while they dominate.