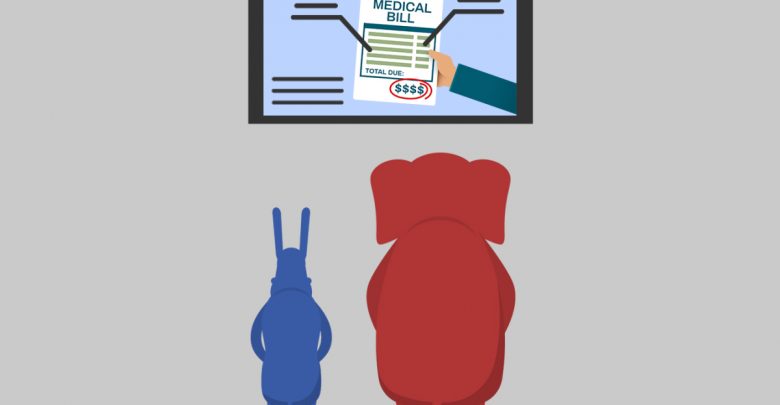 By Andrew F. Quinlan:
A recent study put the likelihood that a hospitable visit will result in a surprise medical bill at 43% in 2016, up from 32% as recently as 2010. The average cost rose even more dramatically, from $220 to $628. It's thus easy to see why there is a bipartisan desire to address the problem, but Congress should tread carefully, as some proposed solutions would do more harm than good.
Surprise medical bills occur primarily when patients are taken to and treated at hospitals outside of their health plan's network in emergencies. The growing prevalence and costs of surprise bills are making healthcare less affordable for many but are also creating political pressure for reform. The primary legislation under consideration is the Lower Health Care Costs Act (LHCC), which was passed out of committee on a bipartisan basis and has significant momentum. The bill represents a conglomeration of proposals address excessive healthcare prices. Unfortunately, when it comes to surprise bills, it offers provisions that amount to price controls and would exacerbate the problem rather than fix it.
To limit surprise bills, LHCC mandates that out-of-network emergency care can charge only the local, median in-network rate. This forces hospitals and doctors into contracts they never signed and dangerously skews the balance of power toward insurers.
Imposing a price based on the median in-network rate would allow insurance companies to manipulate the market. For instance, by selectively dropping or allowing to expire their more expensive contracts, an insurer can unilaterally reduce the local median in-network rate and thus the price it must pay for the growing share of out-of-network providers.
Shrinking networks are already a problem in many regions, which this legislation will make worse by giving insurers a perverse incentive to reduce network coverage. This is just one potential distortion likely to occur, but we know from the history of price controls that many other problems lurk just around the corner.
In a recent coalition letter led by my organization, the Center for Freedom and Prosperity, representatives from 16 free market groups warned against various centralized solutions that impose prices on market participants and suggested instead an alternative based on an existing system with proven results.
New York established an arbitration system where disputed bills are submitted to a neutral health care expert who decides which price represents the most appropriate rate. It's not a true market, but perhaps gets closest to uncovering the market rate absent much-needed reforms to make healthcare more competitive and affordable. A similar system is used by Major League Baseball to compensate for mandated years of team control before players are allowed to enter the open market of free agency.
The upside of arbitration is it doesn't skew the system in favor of one party or another and incentivizes network participation. But one challenge will be keeping down the costs of administering the process.
The nature of emergency services, along with the lack of price transparency and market competition, makes resolving the problem of surprise medical bills difficult. Absent widespread reform, arbitration appears to be the least bad option to protect consumers from surprise bills, though further investigation into the issue by Congress should be welcomed.
We've seen the problems that can arise when government takes a central role in healthcare coverage or provision. Rather than "bending the cost curve down" as promised, for instance, Obamacare led to higher premiums and worse coverage for many Americans despite its author's noble intentions. There's no excuse for making similar mistakes again today.
Andrew Quinlan is the President of the Center for Freedom & Prosperity.