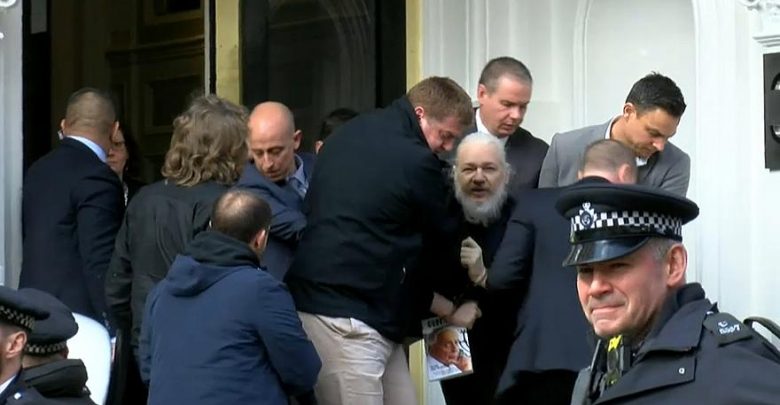 Headline
Assange Taken Down: Will be Charged in Conspiracy with Manning
The Single Charge of Conspiracy is Not Related to 2016 Election
Julian Assange was arrested against his will on Thursday. In a shocking video released today, Assange is seen being carried into custody:
British Police arrived at the Ecuadorian embassy and attempted to communicate with Assange as he immediately moved to get away from them and go to his private room. According to the Press Association:
Officers tried to introduce themselves to him in order to execute the arrest warrant before he barged past them, attempting to return to his private room. He was eventually arrested at 10.15am. He resisted that arrest, claiming 'this is unlawful' and he had to be restrained.

Officers were struggling to handcuff him. They received assistance from other officers outside and he was handcuffed saying, 'this is unlawful, I'm not leaving'. He was in fact lifted into the police van outside the embassy and taken to West End Central police station.
Earlier, in the Westminster magistrates court, Assange was found guilty of jumping bail and spending almost seven years at the Ecuadorian embassy.
In America, Assange is charged with conspiring with former Army intelligence analyst Bradley, now Chelsea Manning, to access and publish classified documents. Prosecutors say Assange tried to directly help Manning crack a password for military computers where the secret information was logged.