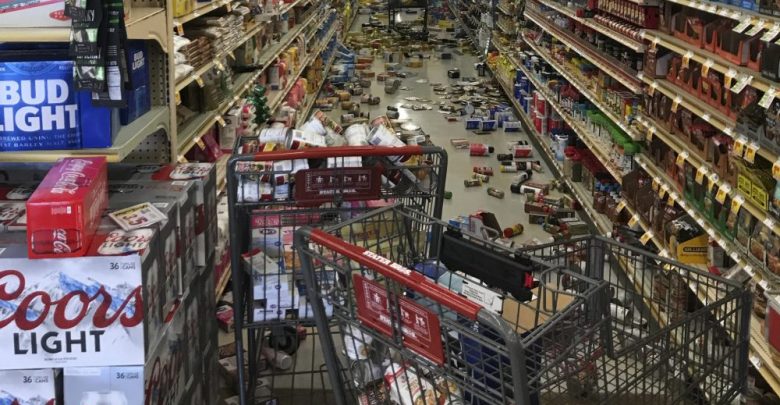 Southern California was hit with one of the biggest earthquakes in decades on the Fourth of July, when a 6.4 magnitude earthquake – powerful enough to be felt all the way to Las Vegas – struck. The record didn't last long, as an even bigger earthquake, this one a 7.1 earthquake, struck at 8:18 PM on Friday.
The US Geological Survey website is reporting that California continues to get around one aftershock per minute.
Seismologist Lucy Jones, who works at the seismology lab for the California Institute of Technology, told NBC Los Angeles that "Everything earthquake makes another earthquake more likely. Yesterday's 6.4 is now a foreshock, and that 7.1 aftershock became the main shock."
The recent tremors were the strongest since 1999 and they came at a time of relative calmness for seismic activity in the region. The faults involved in the earthquakes were a good distance away from the San Andreas fault, which has been the subject of disaster movies in the past.
Seismologists said that the Thursday earthquake wasn't necessarily an indicator of the so-called "Big One" – an earthquake that reaches at least 7.8 magnitude and strikes the San Andreas fault, which runs through California.
"The earthquake does not make the 'Big One' any more likely or any less likely," Jones said during a Tuesday press conference.
Even so, people are worried that the Big One is coming, with people taking cover, roadways cracked, and objects falling all over the place.
Seismologists predict that the "Big One", should it strike, would be 125 times more powerful than the earthquake from Thursday, and 44 times as powerful as the Northridge earthquake from 1994, which killed 57 people and caused over $49 billion of economic damages.
Jones sent out a tweet to reassure people, saying that the "real possibility" of the Big One is around 2 percent per year, or around 1/20,000th each day.