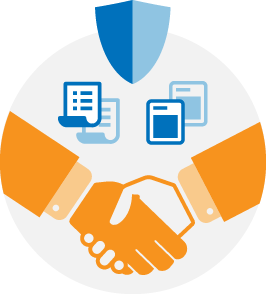 Headline
Can Private Coalitions Ensure Internet Safety?
The Internet — and its reach — both socially and commercially, have grown exponentially over the last 25 years. This is mostly due to the fact that few barriers have been placed in its path.
The Internet has been largely unhindered by regulation or laws.
While this incredible rate of growth is largely a good thing, the standards employed in administering the safety and use of American consumers' private information has thus far mostly been handled by the largely multi-purpose bureaucracy, the Federal Trade Commission (FTC).
That has created internet hazards that have become all too familiar and distressing.
It's also raised a question: While the FTC can be effective in helping to develop rules to "ensure a vibrant marketplace," educating consumers and businesses about their rights and responsibilities and reviewing business practices that could harm consumers, is the FTC fully equipped to protect consumers when it comes to the Internet, especially with the expansion of the so-called Internet of Things?
Isn't the Internet an area where additional measures, and new approaches, are required to ensure consumer and data safety? The Facebook scandals and explosion of privacy and security breaches certainly suggest that we're in dire need of fresh solutions and improved ways to protect society.
In a recent piece in the Financial Times, Duke University Fellow and former Deputy U.S. Treasury Secretary Sarah Bloom Raskin, discussed a new way forward.
She pointed to an approach that combines "consumer protection standards and engineering expertise," and leverages the expertise of the world's leading cyber security companies — Symantec, McAfee, Trend Micro, Sophos, Panda, Kaspersky, Enigma, ESET, Avast, Avira, BitDefender, Webroot, and Microsoft.
Raskin's argument is that with these companies applying heightened standards for what makes an app safe for consumers, they can protect consumers from harmful and misleading apps in a remarkably new, swift, and efficient way.
The method she described hinges on the commitment of both the cybersecurity companies  — who have the ability to remove misleading and potentially harmful apps from consumer machines — and responsible app makers, who have come together in a non-profit group, CleanApps.org, and agreed to comply with heightened consumer-oriented standards.
Those standards were created by AppEsteem Corporation, a certification company that has developed enhanced requirements for industry compliance.
Without AppEsteem and CleanApps.org, consumers' fate could remain largely in the hands of tech giants. Up to now, online users have depended on companies like Facebook to self-police.
The old playbook has been tech behemoths determining how best to safeguard ensure consumer privacy and security. This overreliance on a few to protect the many is plainly not working. For example, one data breach discovered in September of 2018 exposed the information of 50 million users of Facebook.
That news came after over a year of outcry over the Cambridge Analytica scandal, which involved the data theft of as many as 87 million users of the social media platform and may have had an impact on the 2016 presidential election.
Is more government regulation next?
I had the opportunity to speak to three of the leaders on this issue who each shared their perspective on the matter.
According to David Finn, Executive Director of CleanApps.org, this new approach is focused on "curing some of the most intractable consumer-protection ills on the internet while enhancing the prospects of responsible businesses and organizations."
It also looks to do so without the need for government intervention.
Finn, a former federal prosecutor and chief of the Digital Crimes Unit at Microsoft, has spent a large portion of his career working with governments, industry, and consumer groups to keep consumers safe and initiate enforcement action against wrongdoers. The focus of CleanApps.org is what he calls an effort to "support a fair marketplace and protect consumers from harm."
"There's a growing consensus that the internet is broken, with billions of consumers in harm's way," said Finn. "But thanks in large part to AppEsteem's pioneering leadership and the way in which cybersecurity companies and responsible app makers have rallied behind the standards AppEsteem has promoted, I'm optimistic that the internet can become substantially safer."
Dennis Batchelder, the President of AppEsteem, is similarly hopeful.
"I love how the cyber industry and the software vendors have launched a two-pronged attack against deceptors [deceptive apps, like "scareware" that employ unethical tactics to generate downloads without informing consumers of what's coming]. AppEsteem has committed our threat intelligence and our resources to this battle to improve the consumers' internet experience with downloadable software."
This "battle," as Batchelder calls it, is largely being fought by the participating software companies in the Antivirus industry. Alvin Estevez, co-founder and senior shareholder of EnigmaSoft Ltd. says, "international governments are not equipped or don't necessarily understand the multitude of issues consumers are facing today.
"Private AV firms, who specialize in protection against malicious actors are better equipped to handle the global malware and deceptor menace. That's why the AppEsteem/CleanApps/Cybersecurity company approach has so much promise."
Common standards of operating practices for companies doing business on the Internet — this is sorely needed in a world of continued proliferation of fraudulent business practices by bad actors, where companies look to profit from the resale of personal information.
Whether his new effort proves to be a better and safer proposition for consumers remains to be seen, but one thing's certain: the Internet certainly needs more innovation to keep people safer.
Julio Rivera is a small business consultant, political activist, writer and Editorial Director for Reactionary Times. He has been a regular contributor to Newsmax TV and columnist for Newsmax.com since 2016. His writing, which is concentrated on politics, cybersecurity and sports, has also been published by websites including The Hill, The Washington Times, LifeZette, The Washington Examiner, American Thinker, The Toronto Sun, Townhall, Western Journal, Breitbart, PJ Media and many others.
Originally Published on Newsmax.com as : Can Private Coalitions Ensure Internet Safety? | Newsmax.com