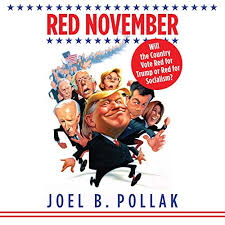 I recently had the opportunity to conduct an exclusive interview with Joel Pollak, Senior Editor at Large and Legal Counsel at Breitbart News, about the last days until the election and his two new books.
Prior to joining Breitbart, Pollak was a Tea Party-backed Republican candidate for Congress in Illinois and a research fellow at the Hudson Institute, focusing on human rights and international law. Born in South Africa, Pollak became a US citizen in 1987. He holds law and bachelor's degrees from Harvard. Pollak is also the host of Breitbart News Sunday on SiriusXM Patriot.
Pollak as usual was honest, busy multi-tasking and very detailed about why every eligible voter must not only vote, but actually learn about who and what issues they are voting for.
Cindy Grosz: Why is this election so important? We hear that every presidential cycle, is it really different?
Joel Pollak: Yes. Joe Biden is a very unique candidate. He is the first candidate to actually win the Democratic nomination who does not move his party to a moderate middle. Those who have followed Biden knew he was never really a moderate, but everyday the public is finding it out everyday, these days by his refusal to answer his positions on fracking and packing the Supreme Court.
Second, the media has always been biased, but never at this level. Voters are not getting answers to issues, they are getting bias opinions. This hurts everyone on all sides.
C: In Red November, you followed the Democratic primaries and candidates. It's part travelogue, part satire, part memoir. Red November reads as a factual, yet humorous, look behind-the-scenes at the candidates, activists, and voters as Democrats choose who will take on the sacred task of removing Donald Trump -- "45," as he is known to his haters -- from the White House and ushering in a utopian age of "Medicare for All" and the "Green New Deal." Why is it important to read now?
JP: Red November proves what this election is all about. Biden is a weak candidate. He is not in charge of his campaign. In his almost 50 years of government, nobody can point to one serous accomplishment that is his. In fact, more can be traced to the failures of the Obama/Biden administration.
C: Tell us about The Trumpian Virtues, available on Amazon Kindle.
JP: President Donald Trump seems confident, despite the polls, that he will be re-elected to a second term. But whether he leaves office in 2021 or 2025, Trump has brought several unique qualities to the presidency that his successors ought to emulate. I explore these qualities — these virtues — in The Trumpian Virtues: The Lessons and Legacy of Donald Trump's Presidency. I begin by reviewing the history of Trump's presidency — so far! — in a step-by-step account, organized 100 days at a time. Then I turn to the Trumpian virtues themselves, the unique approaches that our 45th president has brought to the nation's highest office, and which have helped him succeed.
C: Why should President Donald Trump be re-elected?
JP: If voters actually evaluated the accomplishments of the Trump administration, they would be amazed at how many promises made were kept.
One example is Jerusalem. While President Trump moved their embassy successfully, Joe Biden as Vice President was instrumental in negotiating the United Nations Resolution 2334 in 2016. It said that Jerusalem settlement activity constitutes a "flagrant violation" of international law and had "no legal validity."
C: If you have one piece of advice for voters and the elected officials in Washington DC, what would it be?
JP: The very best piece of advice is for both parties is to retire Nancy Pelosi as Speaker of the House. Hopefully, the Republicans can take over the majority in the House. But, even if the Democrats maintain the majority, they would do their party a great service by choosing a new leader. Her latest act to suggest the 25th amendment is nonsense that Democrats don't need to waste their time on.
Another would be to watch Senator Kamala Harris. Her record proves like Biden, she is more talk than known for her accomplishments. She was actually a bad elected official for California residents and did not help the minority communities like she claims.