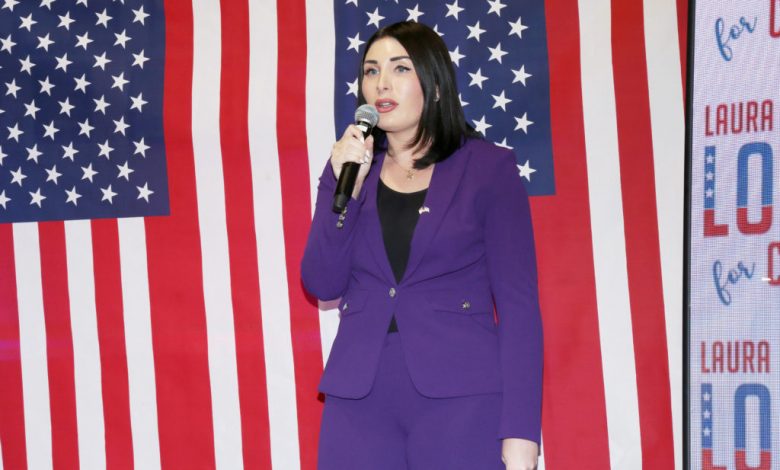 When Laura Loomer won her Florida primary a couple of weeks ago, you would think every Jewish Zionist would be excited. You would think every Jewish Republican and bipartisan organization endorsing candidates and raising funds would be overjoyed.
Non-Jewish voters from across the country certainly reached out to me offering support for Loomer, running in Florida's District 21.
Laura Loomer, 27, is a Jewish Conservative media personality and activist. Originally from Tucson, Arizona, Laura began her journalism career working as an undercover journalist for Project Veritas from 2015-2017. Loomer's investigations have uncovered fraud and corruption within the Hillary Clinton campaign, radical Islamic extremism on college campuses, facts not publicly shared about the Las Vegas Shooting, many flaws and loopholes within the U.S. immigration system, and widespread voter fraud throughout the U.S., which only in this election has become headline news.
Loomer's primary victory was predicted, given the fact that she out raised her competition in donations, received international media attention and was endorsed by Congressman Matt Gaetz, Roger Stone, and celebrity Siggy Flicker. She is also getting help from the grassroots groups JEXIT, and the brand-new group, Jewish Vote GOP, which I started as a result of mainstream Jewish PAC'S supporting incumbents and Democrats who they have built relationships with, like Loomer's opponent, Lois Frankel.
Why? Jews fear the Democratic squad, and rather waste millions of dollars on where they think they have a chance to fight the squad. So far, these Jewish groups are batting 100 percent in the dugout. They pushed in New York Eliot Engel, Michelle Caruso-Cabrera, and endorsed Grace Meng, Max Rose, Tom Suozzi and Kathleen Rice. We know how it ended for Engel and Cabrera. The others, support the Biden-Harris agenda and impeaching Trump.
Loomer's actions and words don't always make everyone feel comfortable. I understand that. People say the same about me. But, when is "safe" always effective? During these troubling times, Loomer is the voice we need. She won't have trouble garnering the front pages and headlines AOC does. She has no trouble garnering the bikers, the gun owners, the veterans or any other passionate Trump supporter who manages in heat or snow to travel state to state and raise thousands of small donations which add up to a lot of money for campaign use.
For those who say Loomer can't win this seat, remember that they said that in 2016 about Donald J.Trump and in 2018 about Alexandria Ocasio Cortez. These are the two leaders shaping their parties and setting the tone and agendas of their respective parties for 2020.
Everyone should be jumping on the "Loomer Bandwagon." If we have learned anything in recent history, it's that Florida decides national elections. Floridians are speaking out all over the state. Not only are they supporting President Trump, now, more than ever, but they want to "drain the swamp." Have you seem a Biden flag sailing threw the waters? Loomer wasn't the only anti-establishment "Trumper" that won her primary.
Air Force veteran and media personality, Anna Paulina Luna, won her Republican primary in Florida's 13th District and will go on to face two-term Rep. Charlie Crist (D) in November. Coincidentally, Matt Gaetz also endorsed her.
Both Loomer and Luna have establishment Democrats with decades of government experience opposing them.
Fear is keeping Jewish Voters From Supporting Fighters Like Loomer
I hear fear from establishment Jewish republicans all the time when they won't support either candidate. Why? Don't ask me. Not supporting them is a slap in the face to President Trump. On primary night, Loomer received congratulations from the Republican National Congressional Committee and Trump himself offered his "Mazal Tov" via social media.
One thing that was very obvious at last week's Republican National Convention, with the exception of Rabbi Aryeh Spero and Congressman Lee Zeldin, was that Jews were virtually MIA. Amazing when you consider that President Trump will go down in history as America's best administration for Israel and American Jews. We have a great chance to change that with a victory for Laura Loomer.
I ran unsuccessfully for Congress in my local area, which includes the very Jewish neighborhoods of the Five Towns, West Hempstead, Oceanside, Merrick, Long Beach and now Atlantic Beach. I lost my primary to a "Romney Republican" whose staff published a statement in late July that he is a "Sometimes Trumper."
Laura Loomer will never be a "Sometimes Trumper" or a "Sometimes Jew." Her race is gaining national momentum and she is ahead of her Democratic challenger in fundraising.
This is a seat we must flip, for Florida, for Jews and for President Donald J. Trump.
Join Jewish Vote GOP for a Zoom meeting with Loomer in mid-September. For details, contact jewishvotecounts@gmail.com.