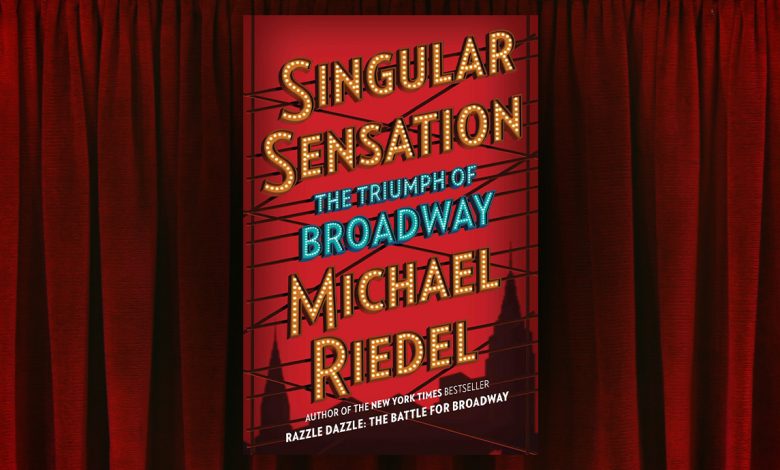 I don't usually get nervous before an interview but I have been a fan of Michael Riedel for years. We have two great passions-theater and politics, although he has made a better career of sharing his views on both. His column as the New York Post's theater critic and as co-host of the extremely successful Len Berman and Michael Riedel show attest to that.
He was a most gracious interview, discussing the state of New York live theater's future and his new book, SINGULAR SENSATION.
Meeting over Zoom, Riedel was casual and friendly while informative with lots of facts and specifics. The fact that he knows everyone in theater from producers and stars to stagehands and crew members and talks about them with affection was for me, a Broadway theater fan since my early elementary school days quite excited.
We both miss the shows, so my first questions were about the future of the staging of live performances with audiences.
Cindy Grosz: When will Broadway return?
Michael Reidel: Based on what I am hearing, rehearsals for shows should be starting in the spring of 2021 and shows won't start until 2022. That's based on the current situation without changes and more outbreaks of the virus.
C: How will Broadway change?
M: A lot will depend on how much coronavirus will still be around. Remember, actors worry about being on stage near other actors, musicians worry about using instruments, particularly flutes and clarinets, and audiences will sitting with social distancing.
In the past, Broadway catered to tourists and the biggest attractions were shows like The Lion King. When the live stage productions return, the first audiences will be New Yorkers. They need new shows to attract their attention to purchase tickets.
C: Many won't pay the prices for those tickets, given their current financial hits during coronavirus. Don't you agree?
M: I just discussed this with Jerry Zaks the award-winning director of the revival of Guys and Dolls, and several other producers about this very topic. Prices will have to change. Everyone from actors to the union members will have to take pay cuts or they will ultimately have no jobs.
Safety on the streets and using public transportation must be addressed by local officials or nobody will attend the shows.
C: Speaking of Guys and Dolls, your new book SINGULAR SENSATION is a must read and features the success of the revival and its star, Nathan Lane.
M: I offer an insider's look at some of the business's most influential and genre-defining acts of the 1990s. Theater changed, and I write about the Rent, The Producers and Guys and Dolls changed Broadway.
All You Need to Know About Singular Sensation
The book features over 150 interviews with Broadway luminaries, SINGULAR SENSATION portrays the people, money, and power that created the blockbuster shows and aesthetic spectacle that has dominated not only a couple of acres of real estate in the heart of Manhattan but also the hearts and minds of millions of people around the world.
The 1990s was a decade of profound change on Broadway. At the dawn of the nineties, the British invasion of Broadway was in full swing, as musical spectacles like Les Miserables, Cats, and The Phantom of the Opera dominated the box office. But Andrew Lloyd Webber's Sunset Boulevard soon spelled the end of this era and ushered in a new wave of American musicals, beginning with the ascendance of an unlikely show by a struggling writer who reimagined Puccini's opera La Bohème as the smash Broadway show Rent. American musical comedy made its grand return, culminating in The Producers, while plays, always an endangered species on Broadway, staged a powerful comeback with Tony Kushner's Angels in America. A different breed of producers rose up to challenge the grip theater owners had long held on Broadway, and corporations began to see how much money could be made from live theater.
And just as Broadway had clawed its way back into the mainstream of American popular culture, the September 11 attacks struck fear into the heart of Americans who thought Times Square might be the next target. But Broadway was back in business just two days later, buoyed by talented theater people intent on bringing New Yorkers together and supporting the economics of an injured city.
Michael Riedel presents the drama behind every mega-hit or shocking flop, bringing readers into high-stakes premieres, fraught rehearsals, tough contract negotiations, intense Tony Award battles, and more. From the bitter feuds to the surprising collaborations, all the intrigue of a revolutionary era in the Theater District is packed into SINGULAR SENSATION. Broadway has triumphs and disasters, but the show always goes on.
The extraordinary story of a transformative decade on Broadway, SINGULAR SENSATION features gripping behind-the-scenes accounts of shows such as Rent, Angels in America, Chicago, The Lion King, and The Producers—shows that changed the history of the American live theatrical experience.
C: You never are shy about being your political views and standing with President Trump and being a conservative.
M: There are many more conservatives in the business than you think. Those in the theater want to make livings. They just don't talk about it.
C: Anything else you want to share about the future of Broadway?
M: Hold on to those Hugh Jackman in The Music Man tickets. They will be honored and future tickets will be impossible to purchase. I was really impressed with the stars of Ain't Too Proud, including Jawan M. Jackson as the next possible breakout superstar like Nathan Lane was in the 1990s. And, look for shows opening Off-Broadway first. They are cheaper to get staged and if successful will go to Broadway.
Michael Riedel has been the theater columnist for the New York Post since 1998. New York magazine has called his column a "must-read" for the theater world. Michael began his radio career as regular on the Imus in the Morning show in 2011. In 2017 WOR, New York's oldest and highest-rated station, asked him to cohost its morning show with well-known sportscaster Len Berman. The Len Berman and Michael Riedel in the Morning show is the highest-rated morning radio program in the New York City area. Michael's book Razzle Dazzle: The Battle for Broadway won the Marfield Prize for arts writing in 2015 and is widely considered to be the successor to William Goldman's celebrated 1967 book about Broadway, The Season. A graduate of Columbia University, Michael lives in the West Village.