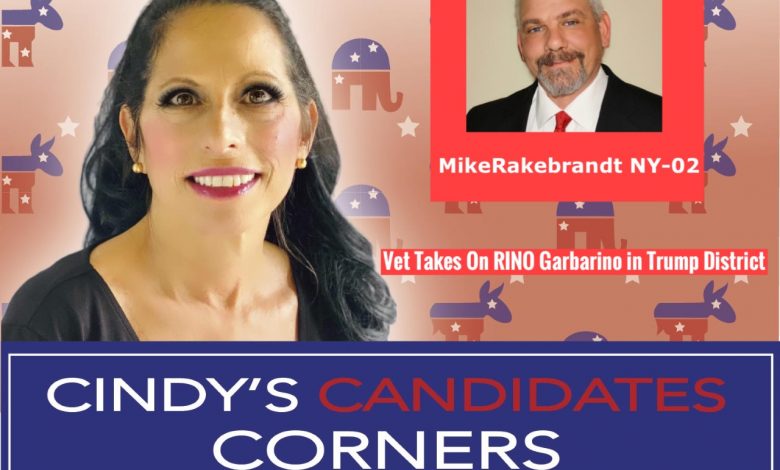 Vet, Detective and America First Candidate Primaries Andrew Garbarino in Red County In NY
Meet Mike Rakebrandt. Rakebrandt is part of a growing group of candidates we can admire and support.
Rakebrandt represents the voter, not a career politician. He didn't plan to ever run and doesn't plan on staying in Washington as an elected official forever.
Mike Rakebrandt is a no-nonsense grassroots, proud American, who is winning over voters everyday in his Suffolk County, New York district. It is a district filled with republicans surrounded by democrats and currently represented by freshman Andrew Garbarino.
"I intend to legislate and support America First policies with an eye towards good stewardship of our district and our nation. I will work towards real infrastructure upgrades and an improved economic environment, with a focus on job creation and small business needs, while also protecting our natural resources," Rakebrandt states.
Rakebrandt is in a primary against Andrew Garbarino, a freshman congressman, who has continually voted against the MAGA agenda of America First policies. He is a career politician, whose father works within the local GOP in his neighborhood.
Voters took notice, and since Rakebrandt announced, he has been supported by his key constituents and endorsed by both Nassau and Suffolk Counties Libertarian Parties and the Nassau County Moms For Liberty.
Word of mouth within his area has led two of his competitors to switch congressional districts.
The first impression one gets of Rakebrandt is honesty. It could be why he is so focused on fair elections and honest primaries.
Rakebrandt takes voter integrity seriously. It is of paramount importance that we immediately put in place protections for our election system, to include:
Require voter identification
Eliminate universal mail-in voting while permitting limited absentee voting
Implement election auditing systems so future elections can be audited quickly and accurately
Institute and enforce chain of custody rules that hold custodians accountable
Create a voting system that provides a copy of your voting selections that can be verified electronically
When he gets to Congress, he plans to tackle the 3Ms; money, mandates and mayhem.
Rakebrandt's primary win is key. It is the only congressional district on Long Island that is geared for a "Red Victory" and whoever wins the primary in June will eventually win the election in November and go fight for MAGA policies in Washington.
Meet Rakebrandt
Mike grew up in Brooklyn and joined the US Navy at age 22. He proudly served for over nine years as a submariner, and then a Hospital Corpsman alongside USMC infantry battalions in the Middle East. In 2004, while deployed in Iraq, he was wounded in combat and was awarded the Purple Heart and the Navy Achievement Medal with Combat Distinguishing Device.
With a desire to continue his public service and fulfill a childhood dream, Mike joined the NYPD in 2007, after which he was promoted to the Detective Bureau in 2013. Always willing to step up to the most challenging assignments – both in the Navy and now with the NYPD – Mike knows that he is at his best when he is serving our country and our community with honor, dignity, and courage.
"A win for me is a win for all New Yorkers, it's a win for responsible legislation and integrity. It's a win for ensuring that all New Yorkers and Americans are empowered and free of restrictive legislation and bureaucratic overreach that stifles them at every level."
Rakebrandt lives in Holbrook, NY, with his wife, Lauren, and his four children, and their dogs Luna and Jupiter.