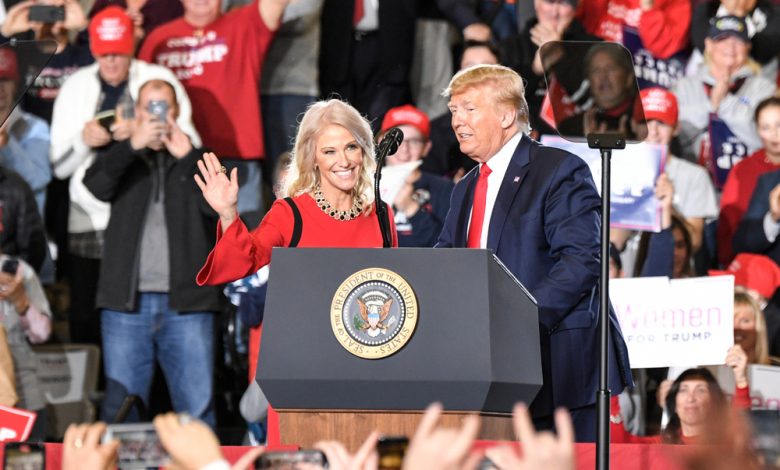 Then Jesus came to them and said, "All authority in heaven and on earth has been given to me."
Matthew 28:18
On Monday morning, the headlines opened with Kellyanne Conway announcing she was leaving the White House. At the same time her husband, George, announced he was leaving his post at with The Lincoln Project. Both citing the need to regroup as a family. Kellyanne, a senior advisor of President Trump and campaign manager for his 2016 election. George has publicly been very anti-Trump. Their daughter has been upset with both her mother and father.
I am sure there was a significant amount of turmoil in their house, which led to this remarkable set of events. Her daughter has tweeted many times about her parents, always in opposition. All have also announced, they are leaving social media behind. Turning their house from a divided house into a reconciling house.
As I thought about this announcement, it seems to me that it is a mirror of what is happening in our country today. Parents and the children are fighting about who is right and who is wrong. Our universities are allowing the professors to move from reasoned debate to taking sides as well. Certainly, no news story can be read without knowing some personal agenda has been included.
Recently, a Democratic candidate in Minnesota, went to a police officer's house, using very vulgar language, called him a racist in front of his children. Stunningly, no rebuke came for his behavior, which went viral on YouTube. Yet many protest that others have done less virulent things and have been banished by the cancel culture.
Conservatives are complaining that if the Liberals or Democrats win this next presidential election, freedoms will be taken away. And our country will drift into being a socialist state. Democrats complain that if President Trump is reelected then divisiveness will reign for another four years.
Our country is extraordinarily divided. Forgotten are the sacrifices made by millions of patriots in service to protect our freedoms. Some will kneel and others will stand. Each sure they hold the moral ground. In all this, the ability to constructively listen to learn has been lost. What we absorb and hear are those things that match our personal agenda, further dividing our country. Leaving our upcoming presidential election a major flash point. Missing in all this is the simple question, How does Jesus fit in to all this rancor and upcoming presidential election?
Well, the far left doesn't believe we should place our trust in God/Jesus, rather they believe we should place our trust in their governing. Even though most Americans(close to 90%) believe in God. Conversely, the right believes strongly in their Christian values, but far too often gets caught up in a tit-for-tat sandbox squabble with the left.
The left is making a big mistake in their view of Jesus. Forgetting that Jesus has All authority in heaven and on earth, as stated in Matthew 28:18. Certainly, they are missing the terrible and horrific track record of socialism over the last centuries. Jesus doesn't want us to be under anyone's control, but himself. History has born this out many times.
At the same time, Jesus doesn't want those who believe in Jesus to get caught up in the evil meets evil dead end street. Jesus knows all too well that, gasoline has never put out a fire. Rather, Jesus wants us Christians to trust that he is in control and to continue to love our neighbor.
In my book, Your Faith Has Made You Well, I stress the importance in having faith that Jesus is in-charge. For all of us to remember that All authority in heaven and on earth belongs to Jesus. Jesus knows the course of this presidential election and His desired outcome. That may mean we may not like the result, but we should have faith that Jesus knows His destination and purpose.
I don't know or could I predict the outcome the upcoming election. I will trust Jesus. What I do know is we should prepare for either outcome. We should never trust or kneel to anyone other than Jesus. Nor should we meet evil with evil. We should always listen to learn and not listen to rebut. We may not agree, but we should always try hard to understand. At the same time, we should stay politely assertive in expressing our views. Not to over power, but with a spirit of love and to inform. I believe this is how Jesus wants us to react to whatever the outcome in the next election.
And most importantly, always remember that Jesus has All authority in heaven and on earth.