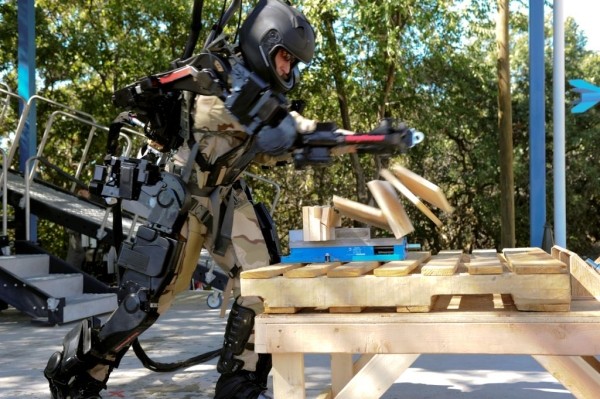 An exoskeleton technology is being tested by the army which makes use of artificial intelligence technology in order to replicate the walk patterns of individuals, and to provide the additional torque, mobility, and power that is required for a combat. This technology will also be capable of analyzing all of the above mentioned factors to make the exoskeleton highly efficient and destructive.

In order to find new technologies that can enhance the performance of soldiers on the battlefield, several tests have been conducted out. For instance, the Fortis device which is a knee stress release exoskeleton has been assessed by army evaluators.

The FORTIS exoskeleton makes use of motors, conformal structures, and independent actuators allowing soldiers to carry weights as much as 180 pounds up the stairs while spending a lesser amount of energy.

This sample was tested on th elite forces, and it allowed them to run with a very high level of agility while they were carrying full loads.

It has been noted that the FORTIS may be highly impactful in urban combat of close-quarter nature. This is primarily because this exoskeleton device enhances the speed, power, and mobility of the soldiers.

The implications that such a technology could have are massive. The truth is that the concept of exoskeletons is not a new one. In fact, this technology is being developed from a decade now. However, it involves a number of challenges. As a result of this, researchers are always trying to find new ways to allow the support and sustenance of the functionality.

Another big challenge is the use of the battery. This is because it brings a number of combat problems which involves the problems of recharging and the amount of weight that a soldier has to carry during a combat.

So the army aims to test prototypes of soldier exoskeletons much similar to the Ironman suit. These are self-generating suits that are primarily designed to change the combat missions increasingly, by support the full movement of the soldier. Apart from that, these suits may also be capable of generating their own electricity, and reducing the amount of energy a soldier has to spend in carrying weight during a war. It may even be able to power up the weapon systems.

There are a number of configurations that are being researched. These include a backpack that can slide down or up via a spring resulting in very little or virtually no impact of weight on the soldier.

Apart from that, helmets that have a high resolution thermal sensor, night vision built in, and internal computers are also being researched. Apart from that, researchers are also trying to find the possibility of including weapons built into the exoskeleton.

For instance, a project known as the Tactical Light Operator Suit (TALOS) aims to develop a body suits that provide a great level of strength and a high protection. Moreover, these suits are also expected to house power generators and control/command computers.

https://www.youtube.com/watch?v=RKcqHaPhkkM

Indeed, the future of the military combat troops will be totally different to how combat troops function today.