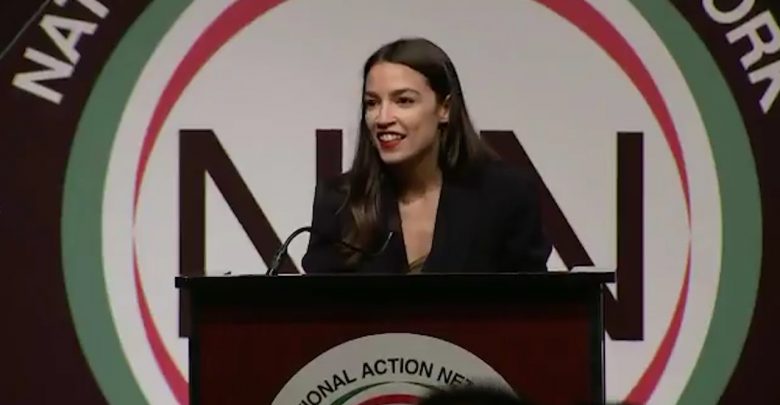 Economy
'Financially Illiterate,' AOC Slammed At National Action Network Event
What was worse, the accent or the content of her speech?
Finally a sober voice in the usually lockstep far-left wing of the Democrat party has called out Alexandria Ocasio-Cortez for the failed Amazon deal in New York. At a National Action Network event where AOC spoke, there were grumblings regarding AOC's financial literacy. According to the New York Post, Tracy Maitland, president and chief investment officer of Advent Capital Management said, "The people campaigning against the Amazon campus are financially illiterate,"
The report also stated that Bill Thompson, the chairman of the City University of New York, also said during the panel that jobs were "snatched away" from mostly Latino and black students at the university.
This was of course the event where the left's current "it girl," had her "hot sauce in her purse" moment in front of a mostly Black and Hispanic audience:
The disgruntled voices that lead the Black Community's left wing seem to have had enough of AOC, and with good reason. The have finally started to realize the way they have been used to win elections by a Democrat party that prioritizes illegal immigrants over Blacks, Whites and Hispanics below the poverty line.
The Amazon Deal was of critical importance to New York City. It lost 25,000 jobs that were initially promised by Amazon's HQ2. Those jobs are now to be spread across 17 of Amazon's corporate offices and tech hubs in North America. The company had originally planned a campus in the Long Island City neighborhood of Queens. A working class community that would have benefited greatly from the Amazon partnership.
Is the great awakening coming? Will so-called disenfranchised blacks begin to give the President an honest assessment of his job performance? The tide has already begun the turn in the Hispanic Community, where a recent poll indicated that 50% of Hispanics view Trump favorably. With Black unemployment near historic lows and Black entrepreneurship up 400% over Obama era numbers, will Blacks back Trump in 2020?