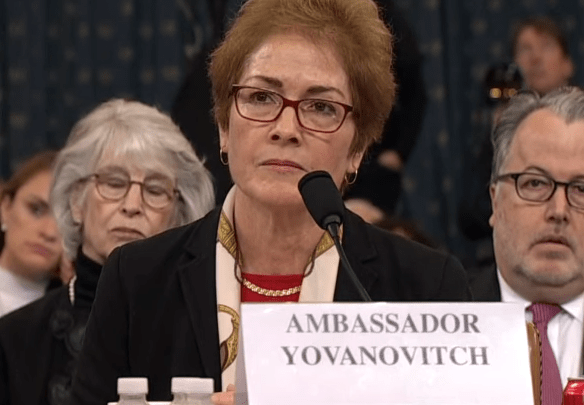 The second day of public impeachment hearings saw testimony from former U.S. Ambassador to Ukraine Marie Yovanovitch, as well as an instant reaction to a tweet about her from the President, just minutes after the beginning of her testimony. 
Yovanovitch, Trump, and the Impeachment Saga 
Marie Yovanovitch opened the second day of public hearings with several questions and emphasized on the "threat" that Trump allegedly made during his phone call with Ukrainian President Zelensky in July.
"How could our system fail like this? How is it that corrupt foreign interests could manipulate our government?" Yovanovitch said in her opening statement, proceeding to comment on what Trump said about her in the call. 
Minutes after her opening, President Trump tweeted that "everywhere Yovanovitch went turned bad," and the former Ambassador was asked to respond to the new attack, to which she said the tweets seemed "very intimidating." 
Adam Schiff, Chairman of the House Intelligence Committee, also commented on the tweets, saying they could be seen as witness intimidation, and should not be taken lightly. 
Yovanovitch also talked a bit about the State Department, and problems within the institution, which is only being "degraded" further and further: 
"The State Department is being hollowed out from within at a competitive and complex time on the world stage," she said. 
Despite the testimonies' strong impact emotionally, so far, no new evidence or information has surfaced, leaving the impeachment effort without any significant progress.