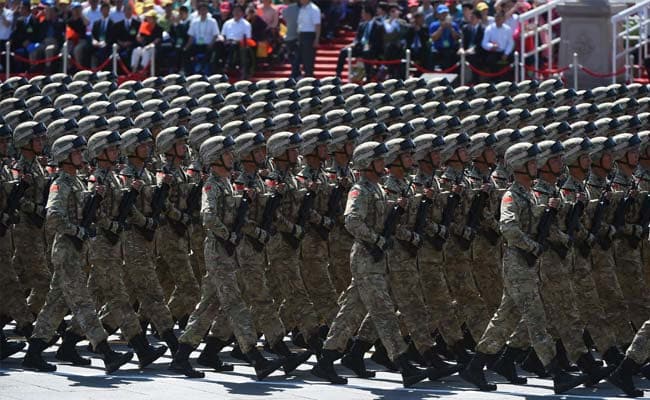 The Communist Party's 70th anniversary in power in China will bring about a parade, with demonstrations and a possible glimpse at The Dongfeng 41 – a new missile, rumored to have the longest range in the world, capping out at 9,400 miles.
It's been confirmed by Ministry of Defense spokesman Maj. Gen. Cai Zhijun that the parade on Tuesday will feature more than 580 pieces of military equipment, including more than 160 aircraft and 15,000 troops. Cai also added that many new weapons "will be shown for the first time", however when asked by reporters about the Dongfeng 41, his reply was "please wait and see."
"China has developed nuclear, space, cyberspace and other capabilities that can reach potential adversaries across the globe," U.S. Defense Intelligence Agency reported in January.
While not many details of the new missile have been made public, the projected range, coming in at 9,400 miles would be the world's longest for any missile, flying at 25 times the speed of sound with up to 10 warheads for separate targets – it's possible that it could reach the United States in a mere 30 minutes.
While China has a low number of nuclear warheads compared to the U.S. and Russia – about 280 compared to 6,450 and 6,850 respectively, planners believe that the minimum nuclear force "needs to be larger" as well as "to have more advanced systems with MIRV capability to remain credible, in their eyes."
Blurry images of drones have surfaced on Chinese social media – of an attack drone named "Sharp Sword" and another, the DR-8 or Wuzhen 8, in what seems to be preparation for the upcoming parade on Tuesday.
Beijing's ambition to show their power and subsequently enforce claims to disputed territories, as well as control shipping lanes and waters, is seen as worrying by some.
"There are quite a lot of observers, including the U.S. military, who say, 'This is getting close to what we do', and they are starting to worry", was the comment Siemon Wezeman of the Stockholm International Peace Research Institute had.