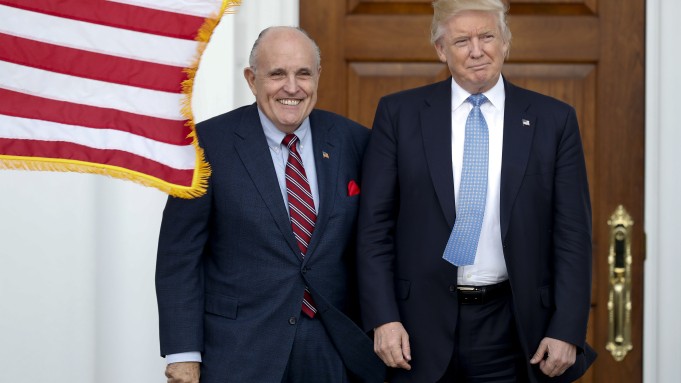 The whistleblower affair, which became an initiative for impeachment, has now ended up in a subpoena for Rudy Giuliani, President Trump's lawyer.
"I have received a Committee subpoena from 3 Committees of the House. It raises substantial constitutional and legal issues as well as attorney-client and other privileges. These and other issues must all be considered before a proper decision can be made," Giuliani stated Monday, after the subpoena announcement from Democratic chairmen.
Adam Schiff, Jerry Nadler and Elijah Cummings wrote about Giuliani's involvement after saying he reportedly "admitted on national television that, while serving as the president's personal attorney, he asked the government of Ukraine to target former Vice President Joe Biden."
"In addition to this stark admission, you stated more recently that you are in possession of evidence- in the form of text messages, phone records, and other communications- indicating that you were not acting alone and that other Trump Administration officials may have been involved in this scheme," the three Democrats said. Giuliani's response was: "I'm a lawyer. It's his privilege, not mine. If he decides that he wants me to testify, of course I'll testify, even though I think Adam Schiff is an illegitimate chairman. He has already prejudged the case." At first the President's attorney refused to cooperate with Schiff, but now says he will "consider it" if his client, President Trump, approves.
When asked about events in Ukraine, Giuliani said "They bought Joe Biden's office," tying Ukrainian oligarchs to George Soros – a Democratic donor.
Giuliani firmly stands on what he said that his investigations on corruption were not involved with Joe Biden or his son, until the "pay for play" was discovered.
"Wake up democrats. You are covering up corruption and by the time and is over, you are going to be the party of corruption," Giuliani added.
"I prosecuted corruption – Democrats and Republicans – I can smell this; [Former President Barack] Obama let this happen. Any honest president would have called the vice president in and say, 'Joe, what are you doing? I sent you there to straighten out corruption and you have your son, who has no capabilities, getting millions from a crook in the Ukraine," Giuliani said.