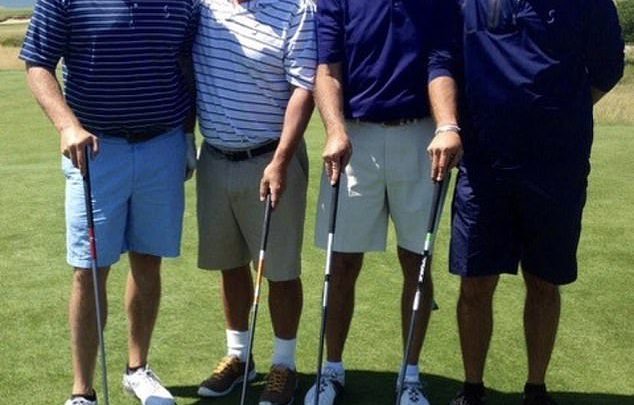 In an Exclusive Photo obtained by Fox News, Former Vice President Joe Biden and his son Hunter are seen enjoying a game of golf with Devon Archer – a former board member of Ukrainian natural gas company Burisma Holdings.
Although Joe Biden denied discussing his son's business in Ukraine earlier this month, his son Hunter has previously said he spoke to his father "just once" about Ukrainian affairs.
"I have never spoken to my son about his overseas business dealings. I know Trump deserves to be investigated. He is violating every basic norm of a president. You should be asking him why is he on the phone with a foreign leader, trying to intimidate a foreign leader. You should be looking at Trump," were Biden's words.
"And now, he made a lie when he said he never spoke to his son. Of course you spoke to your son!," President Trump said, hinting at possible corruption by the Biden family.
In 2016, while Joe Biden was still in the position of vice president, he had made jokes and almost "bragged" about firing one of Ukraine's top prosecutors Viktor Shokin, who was at the time investigating Burisma Holdings – the company, in which Hunter Biden had a role on the board, despite practically zero expertise on energy or gas. The terms for Shokin's dismissal were a threat Biden had made to withhold $1 billion in U.S. aid.
"Impossible to justify $50k/month for Hunter Biden serving on a Ukrainian energy board w zero expertise unless he promised to sell access," Ian Bremmer, a political scientist, wrote on Twitter, with many other critics who share the opinion and believe Hunter might have sold access to his father.
Rudy Giuliani, President Trump's attorney, also had some interesting things to say about Shokin's dismissal, and believes the prosecutor to have been a target of an international smear campaign, one meant to discredit his work.
"I have an affidavit here that's been online for six months that nobody bothered to read from the gentleman who was fired, Viktor Shokin, the so-called corrupt prosecutor. The Biden people say that he wasn't investigating Hunter Biden at the time. He says under oath that he was," the prosecutor's unwillingness to drop the case was most likely the reason he was pressured into giving up his position and work.
Giuliani's thoughts on the whole affair ended in a question: "The question is, when Biden and Obama saw that article, about how the son was pulling down money from the most crooked oligarch in Russia, did Obama call Biden in and say, 'Joe, how could you be doing this?,' referring to a 2015 article by the New York Times about Hunter Biden, Burisma Holdings and a Ukrainian oligarch.