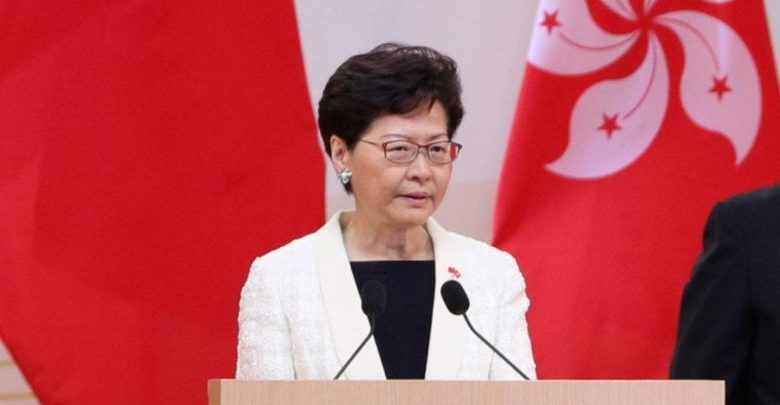 World
Hong Kong Extradition Bill Dead According to Carrie Lam
Hong Kong leader Carrie Lam said on Tuesday that the extradition bill, which had been so controversial it caused mass protests, is now "dead". 
During a press conference to address the troubles caused by the bill, she said that there was no plan to restart the legislation, describing the efforts to amend the bill as nothing short of a "total failure". She also took full responsibility for everything that happened in the city, according to translations of her address. 
Things have become tense in Hong Kong on the political front, following protests over extradition bills that would have allowed for people arrested in Hong Kong to be sent to mainland China for trial. The bill was suspended in response to the first wave of demonstrations, but the protests didn't stop and campaigners called for the whole thing to be scrapped entirely. 
"I have almost immediately put a stop to the (bill) amendment exercise, but there are still lingering doubts about the government's sincerity, or worries whether the government will restart the process in the legislative council, so I reiterate here: There is no such plan, the bill is dead."
It's worth noting she didn't say that the bill had been officially withdrawn, which suggests that the measure may be brought back down the line. These concerns were also addressed by Lam; 
"What I'm saying today is nothing really different from what I said before. But maybe the citizens need to hear a definitive saying (from me)," Lam said, according to a translation of those comments. "So saying that the extradition bill is now in the coffin is the more definitive way of saying it, which means, the bill is dead. Hence, everyone doesn't need to worry whether there will be any tactics that the discussion of the bill will resume in this Legislative Council term."
The most dramatic protest happened last week, when protesters ransacked the main legislative building in the city before being driven back by police armed with tear gas. 
On Sunday, a massive group of protesters – said to be over 200,000, outnumbering police by around 4-to-1 – flooded the streets of Kowloon to be heard by visitors from the mainland, who regularly visit the area. 
Hong Kong had been a British colony until 1997, when it became a special administrative region of China with a "one country, two systems" framework. The legal system of Hong Kong was kept separate from that of mainland China. Citizens of Hong Kong have expressed their concerns their freedoms are being eroded under Beijing, with the extradition bill being just the latest example of this change. 
Lam said she is "proud of the quality of the Hong Kong people", which was demonstrated by the peaceful behavior shown by most of the protesters. She did add that a "very small minority of protesters have used the occasion to resort to violent acts and vandalism". 
"We are sad to see these violent acts because they undermine the rule of law in Hong Kong," she said. "So I make a very sincere plea here, that in the future, if anyone in Hong Kong has any different views — especially those about the Hong Kong government's policies — please continue to uphold the value of expressing it in a peaceful and orderly manner."
Lam said during the Tuesday address that calls for amnesty – calls for the government to not investigate and prosecute the individuals who broke the law during the demonstrations – were "not acceptable."
There is also to be an independent study into the behavior of the police during the protests, with Lam calling for enough time to "improve the current situation."