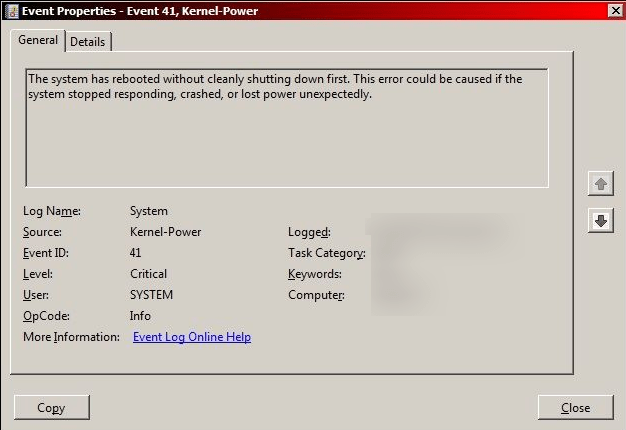 Is your computer constantly rebooting and displaying a 'Kernel-Power 41 Error' message? This error usually causes your computer to restart itself constantly, if not continuously and is usually caused by broken drivers, startup settings, or faulty hardware. Here we will shed some light on the nature of the error, and how to fix it.
Kernel-Power 41 Error Details
The standard way to shut down Windows will not trigger the Event ID 41 associated with the error. When you select Start Menu>Power> Shut down, the system will close all opened files and notify any active apps and services to write unsaved data to the disk.
However, if an unexpected event triggers shut down, a Kernel-Power error labeled with Event ID 41 will be displayed upon the next system start. The alert often mentions the keywords (70368744177664),(2), which are used to narrow down information about the issue when you contact Microsoft support.
FIX 1:
Disable Fast Startup in Windows 10
Fast Startup is an option enabled by default on Windows 10 that allows faster booting by shutting down the computer in a way that applies certain functions similar to Hibernation mode. Leaving Fast Startup enabled will not harm your computer. however, it could trigger Kernel-Power critical errors.
Disable the Fast Startup:
Go to Search, type

"power"

and select

"Power & sleep settings." 

In the

Power & sleep

window, under

Related settings

, select

"Additional power settings."

In the

Power Options

window, click the

"Choose what the power buttons do"

link at the top left.

In the

System Settings

window, click on the

"Change settings that are currently unavailable"

link.

Locate the

"Turn on fast startup"

checkbox and uncheck it.
FIX 2: Update All Drivers
An old driver could be causing your computer to shut down unexpectedly. A simple solution is to update all drivers. 
Go to

Start Menu

, type "

device manager

" and click the

Device Manager

result.

In the

Device Manager

window, you will be presented with a list of all devices connected to your computer. To see their drivers, click on the arrow in front of every entry. 

Right-click on every driver and select

"Update driver"

from the context menu. 
Note: You will be given the option to choose from an automatic update and a manual update. The first option searches for available drivers both online and in specific directories on your device. When using the manual option, you will have to download updates from the driver manufacturer websites manually. 
Update all drivers listed in the Device Manager. 
Optionally: While going through your drivers, check for duplicate entries. Although it is not a common issue, duplicate entries could pop up. To fix this issue, right-click on either entry and select "Disable" from the context menu. 
Fix 3: Disable Overclocking of Components
Overclocking and chip frequencies that don't match the factory values recommendations can often cause unexpected reboots. Therefore, it is recommended to disable all potential CPU, GPU, and memory overclocking. 
Fix 4: Check your Hardware
A hardware issue could trigger the critical Kernel-Power ID 41 error. Take a look at your hardware and make sure that there is no dust on the RAM sticks. While you look at the memory sticks, check their stickers and make sure that all sticks use the same frequency. 
Make sure that all RAM sticks and wires are connected securely. 

Inspect the power connections to your CPU and motherboard. 

Make sure that there is no dust buildup on your RAM sticks, CPU, and other components. 

Look for anything unusual that could indicate hardware damage. 
Warning: Never check your hardware while your computer is turned on or connected to a power source.
NOTE: Be aware that by physically opening your device, you will void your manufacturer's warranty. Proceed with caution.