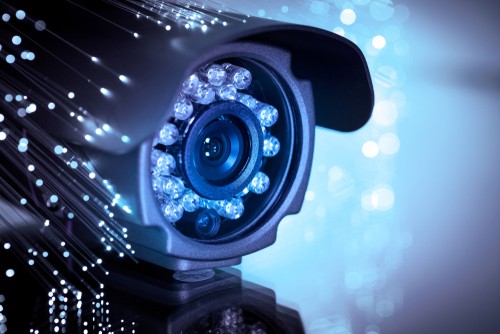 Having an IP camera, whether it be a webcam on your computer, a doorbell camera, or part of your security network, comes with its advantages and disadvantages. One of the biggest drawbacks is the risk of a hacker getting into the camera. Here's how to protect your IP camera from hackers. 
Secure the Network 
An IP camera is hooked up to an internet connection through your Wi-Fi network. You can protect the camera by protecting the network itself. At the very least, you want to have a strong password attached to the network. 
You should also be sure to not give your password out to just anyone. Only allow trusted friends to have access to your local network. If you have guests over a lot and you need to tell them the password, then it's recommended you change the password every so often. It would be much worse if someone hacks the network itself and not just the camera. 
Secure the Cameras 
As well as securing your network with a password, you need to protect the cameras with a strong password. Many IP cameras come with pre-loaded software that makes it possible to remote view the image from the camera. Unfortunately, the cameras are shipped with the same default username and password as part of this package. 
Some people will change their password when they get their camera, but many people don't even realize they should. This means an outsider can access the camera feed remotely themselves, especially if they have a similar camera and know the default password to get access. 
Avoid Port Forwarding 
Your web router, which connects you to the internet, comes with security measures that prevent certain applications from accessing the network. One way to get around that is to set up port forwarding, such as for a games console. 
There's nothing inherently wrong with port forwarding, but it shouldn't be used for IP cameras. If you don't know what port forwarding is, then you probably don't need to worry about this. If you are using port forwarding, though, then you must be extra careful in how you configure them lest you leave your IP camera vulnerable.
Update the Firmware 
Much like the apps on your phone and programs on your computer, IP cameras receive regular security updates. The problem is that those improvements are small – and the update process can be so complicated – that most people ignore calls to update camera firmware. 
Unfortunately, most of these updates are related to preventing hackers and filling gaps in security. When manufacturers become aware of a flaw in camera security or operation, they correct it through a firmware update. Making sure your camera is updated to the latest version is a crucial step to preventing hacking. 
Summary
There are several things you can do to protect an IP camera from hackers. At the very least, you want to make sure everything is password-protected, and the camera firmware is up to date.