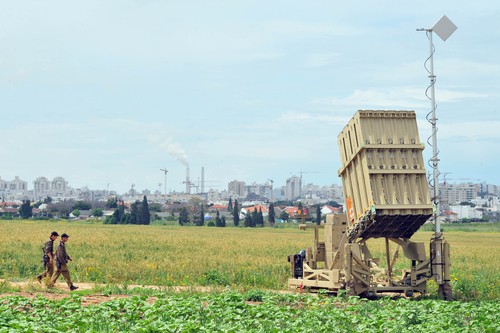 World
Hundreds of Missiles Fired at Israel from the Gaza Strip
Gaza militants showered Israel with over 200 rockets on Tuesday in response to an Israeli airstrike that killed a jihadi commander. Israel wasted no time in responding to the attacks by launching additional airstrikes against the Islamic militants. 
Raining Missiles 
The retaliation from the Islamic militants in the Gaza strip came after an airstrike conducted by the Israel Defense Forces (IDF) resulted in the death of jihadi commander Baha Abu al-Ata and his wife in eastern Gaza. 
"Baha Abu al-Ata was the senior commander of Islamic Jihad in Gaza, responsible for most attacks emanating from Gaza over the last year. He was a ticking time-bomb... there was a window of opportunity that we utilized precisely," Lt. Gen. Aviv Kohavi said Tuesday, followed by a series of tweets by the IDF regarding the rockets fired at Israel. 
According to a report on Fox News, the IDF targeted Abu al-Ata after they uncovered a plot by the Islamic militants to attack IDF troops using a combination of anti-tank missiles and suppressive fire. While the goal of the preemptive strike was to decrease the number of casualties and collateral damage, it ended up leading to an increase in violence from both sides.
1 rocket every 7 minutes.

That's how often Islamic Jihad has been firing rockets into Israel since yesterday morning.

Israel's Iron Dome intercepted over 90% of the rockets before they could reach Israeli homes. pic.twitter.com/pT0Xw4LqgQ

— Israel Defense Forces (@IDF) November 13, 2019
Civilian casualties were low as 90 percent of the rockets were intercepted by the Iron Dome defense system. However, injuries were sustained, and treatment was given for shrapnel wounds and psychological stress. 
Europe Calls for a Cease to Violence 
The European Union also came out with a statement regarding the rocket strikes, calling for "a rapid and complete de-escalation," further adding that what's most important is to "safeguard the lives and security of Palestinian and Israeli civilians." 
"The firing of rockets on civilian populations is totally unacceptable and must immediately stop," was added in the statement. 
Many officials and institutions have also condemned strikes from both sides, saying that the fighting "will only increase tension and violence, deepen the environment of despair and promote extremist agendas in the region." 
Egypt has also said they are trying to de-escalate tensions, "opening channels" with the U.S. and the EU in hopes of once again act as a mediator and hopefully reach another cease-fire deal between Israel and the Gaza militants.