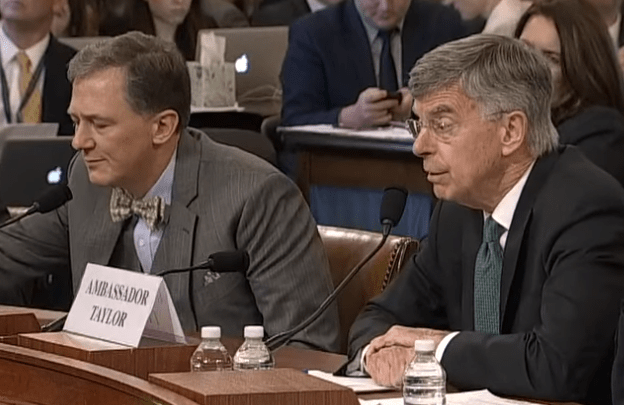 The long-awaited public impeachment hearings have finally begun, with the first two testimonies being from Bill Taylor and George Kent. 
No More Testimonies Behind Closed Doors 
Up until today, the impeachment inquiry against President Donald Trump has been in session behind closed doors. Many have been calling for public hearings ever since the whole impeachment saga began, given the way that the Democrat-controlled House has been handling the proceedings. 
However, today is finally the day where the public gets to know what's going on and what's being said word for word. George Kent and Bill Taylor were the first in line for the public hearings, and their opening statements were delivered in quite a strong way, despite Rep. Devin Nunes' "welcome" comments towards the two diplomats.
The Testimonies: All Smoke, No Substance 
Although Ambassador Taylor and Mr. Kent said nothing particularly new, they kept accusing President Trump of abuse of power and abandoning the US' commitment to Ukraine.
The biggest point explicitly made was that it's not so much about the alleged abuse of power going on, but more about the reorientation of US foreign policy, leaning toward Russia and not in favor of America's interests. 
Despite the strong testimonies, which at first glance makes the situation seem horrible for Republicans, nothing particularly new was discovered or said, and that's quite important to the investigation itself. If no evidence is found, then this was clearly just "a waste of time," as many have claimed that this is all the whole impeachment saga has been so far. 
The First Day Was A Big Nothing Burger
The fact of the matter is, if no solid evidence of wrongdoing is provided and confirmed, nothing will come out of the impeachment, and it would just be another failed effort. So far, things only seem to be going good for Democrats on the surface, but in reality, Trump is quite ahead, as there's nothing to condemn him at all, with no evidence, and even Ukrainian President Zelensky himself denying the allegations of a quid pro quo.