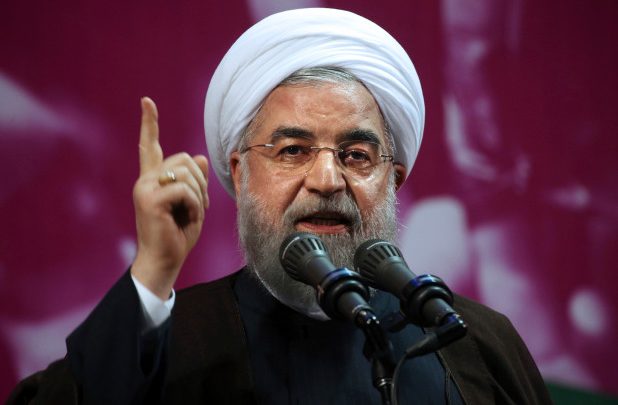 Iran has ruled out the possibility of discussions with the United States until the sanctions on Tehran are lifted. Iranian President Hassan Rouhani made the announcement on Tuesday, just a day after President Donald Trump said he wanted to meet Rouhani to try to end the nuclear standoff between the countries. 
During a message broadcast on Iranian state television, Rouhani said that the country was prepared to hold talks but "first, the US should act by lifting all illegal, unjust and unfair sanctions imposed on Iran." 
Trump ruled out lifting economic sanctions against Iran during the G7 summit in Biarritz, France. 
"Washington has the key for positive change…so take the first step…without this step, this lock will not be unlocked," said Rouhani. 
The European parties involved with the deal have so far struggled to keep the tense situation calm since Trump pulled out of the deal last year. 
French President Emmanuel Macron has been working to defuse the tensions. Iranian Foreign Minister Mohammad Javad Zarif was flown into France as a surprise guest to the G7 summit to talk to French officials. 
Since leaving the nuclear accord last year, Trump has continued a policy of applying "maximum pressure" to Iran to strong-arm them into restricting their ballistic missile program and stop supporting proxy forces across the Middle East. 
Rouhani stated that Iran doesn't want to create tensions with the world; they just want better security for the Middle East and better relations with other countries. 
Iran has slowly been breaching the nuclear deal in response to the sanctions. They have since treated further violations unless the sanctions are lifted. 
"We will continue to scale back our commitments under the 2015 deal if our interests are not guaranteed," said Rouhani. 
The deal reached between Iran and six other countries by former president Barack Obama in 2015 was designed to dissuade Iran from continuing their uranium enrichment program. In return, sanctions against Tehran would be lifted to make life easier for Iranians. 
Iran has gone on to rule out talks with Washington over their military capabilities, in particular, their ballistic missile program – which they say is defensive. Iran denies its missiles are capable of being fitted with nuclear warheads and claim that their nuclear program is entirely peaceful. 
President Trump and Rouhani are both scheduled to attend the United Nations General Assembly in September. Even though both will be in attendance, a meeting between the parties would have to be authorized by the Supreme Leader Authority Khamenei, who holds the last say on all matters of the state.