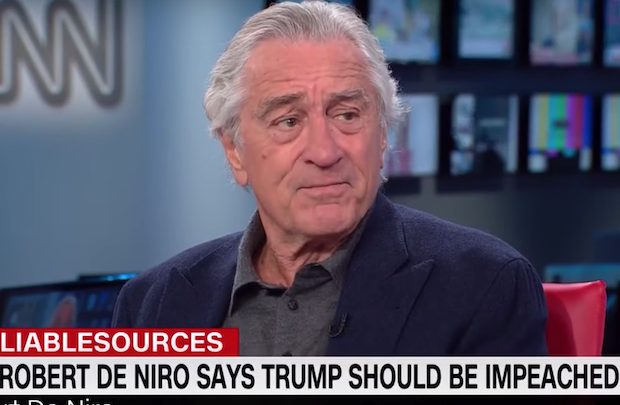 America
Jackass De Niro Has Meltdown on CNN
During an appearance on CNN, actor Robert De Niro lashed out at President Trump and Fox News critics, calling the current political situation a "crisis," as well as calling Fox out for supposedly building up Trump.
"It has to happen," De Niro commented on impeachment proceedings by Democrats over a recent scandal involving President Trump and the Ukrainian President.
"Too many people are too gentle and genteel about it. And we're in a crisis situation, period," De Niro also added that he doesn't believe Trump is "capable of resigning."
"He will say it's rigged or this or that. The day after he was elected, I said, well, give him a chance. You never know. You will see. But he is the – he's worse than I ever could have imagined."
"Some of these other pundits on Fox… I can't believe that they would actually buy into this craziness. This guy is – should not be president, period. And this guy just keeps going on and on and on without being stopped," De Niro also took shots at not only the President, but Fox as well.
CNN's Brian Stelter had also at a certain point in the conversation brought up criticism that De Niro had gotten from people from Fox News, to which the actor's response was "F-- 'em. F-- 'em."