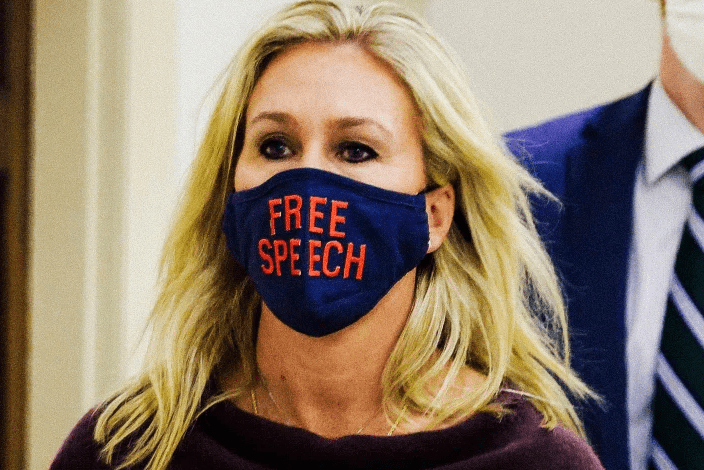 Democrats voted for the removal of Rep. Marjorie Taylor Greene, R-Ga. from her committee assignments after Republican leadership failed to address her behavior on social media platforms, where she had promoted conspiracy theories and endorsed violence against Democrats.
History of Controversy and Conspiracy Theories
Marjorie Greene, who has a long history of making racist comments and being a supporter of the QAnon conspiracy theory, was elected to the House in November. Upon her election, she was quick to announce her intentions of introducing a bill on her first day to impeach President Biden. While it is unclear whether fellow Republicans supported Greene's plan, such a bill wouldn't have had any chance of passing in the Democrat-controlled Congress.
In a speech on the House floor, Majority Leader Steny Hoyer, D-Md., condemned Republican leadership's dormancy towards Greene's incendiary rhetoric. Hoyer showed a screenshot displaying one of Greene's Facebook posts that included her holding an AR-15 alongside Democratic Reps. Alexandria Ocasio-Cortez, Ilhan Omar, and Rashida Tlaib above a banner that read "Squad's Worst Nightmare."
Greene defended herself in a floor speech ahead of Thursday's vote, expressing regret over her past remarks, including ones in support of her conspiratorial views, such as her belief that the 9/11 attack on the Pentagon never happened.
"These were words of the past and these things do not represent me," Greene said, portraying herself as a victim of canceled culture and shifting the attention to the media, which, according to her, distorted her views.
However, Greene didn't offer an apology.
About Greene's social media presence
Last week, CNN brought to light old Greene's Facebook posts, in which she openly supported calls for violence against prominent Democrats, including House Speaker Nancy Pelosi. In a Facebook post from January 2019, Greene liked a comment saying that a "bullet to the head would be quicker" to remove the House speaker.
Greene, who wasn't in her office at that time, excused her online actions by saying that others were handling her social media accounts.
Other Greene's Facebook posts suggested that the school shootings in Newtown, Conn., and Parkland, Fla., were staged "false flag" operations.
In a tweet from January 2021, Fred Guttenberg, the father of a killed Parkland student, shared a video of Greene harassing David Hogg, a former Parkland student, outside the U.S. Capitol.