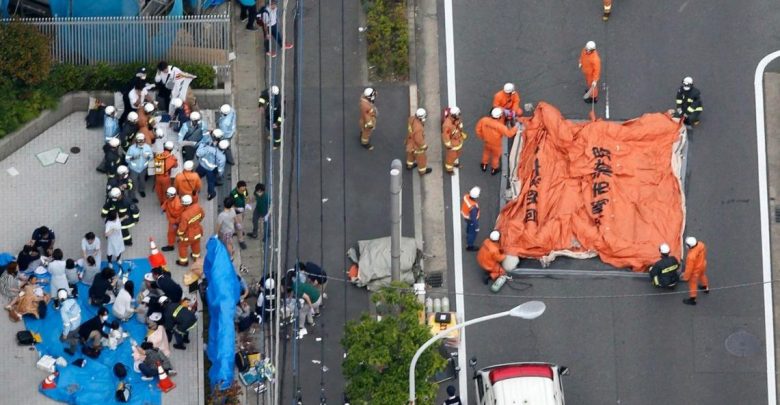 A mass stabbing attack in Japan has left an adult man and a schoolgirl dead, as well as 15 other young girls injured. The attack happened at a bus stop outside of Tokyo on Tuesday, according to national broadcaster NHK. A man was detained at the scene but later died.
The girls – who were aged between 6 and 12 years old – were all students of a private Catholic school in the city of Kawasaki, which is south of Tokyo. They were about to board their bus when they were attacked by the suspect.
The bus driver for the bus, headed to Caritas Elementary School, told police that he saw a man approaching the bus stop. The man had a knife in both hands and used them to slash at people.
NHK is reporting that the girl who died in the attack was 12, while the man was 39-years-old. A woman was injured along with the other 15 schoolgirls that were hurt in the attack.
The suspect was detained at the scene but attempted to kill himself by stabbing himself in the neck. He would die in police custody. The man, described as a Kawasaki resident presumably in his 50s, was unconscious when police detained him.
It is unclear what motive the attacker had, but there were no fears of an immediate threat to public security. Japan has one of the lowest rates of violent crime in the world, but mass stabbings can – and have – happened. These attacks primarily involve the vulnerable.
One such incident happened in 2016, when a man killed 19 people and injured 26 others after declaring his intent to kill disabled people.
Another incident involving children happened back in 2001, when eight children were killed and 19 others were injured after a man attacked a primary school with a knife.
The recent attack occurred on the last day of a four-day state visit by U.S President Donald Trump.
"On behalf of the First Lady and myself, I want to take a moment to send our prayers and sympathy to the victims of the stabbing attack this morning in Tokyo," Trump said during a tour of the Kaga, the largest warship in Japan.
"All Americans stand with the people of Japan and grieve the victims and for their families," he added.
TV footage from the incident showed police and emergency vehicles attending the crime scene, with some large areas cordoned off.
A witness spoke to NHK, saying that he saw some people lying on the ground covered in blood from the attack. One police officer was witnessed cleaning the streets with a hose.
The girls' school was just a kilometer away from the scene of the attack, according to NHK.