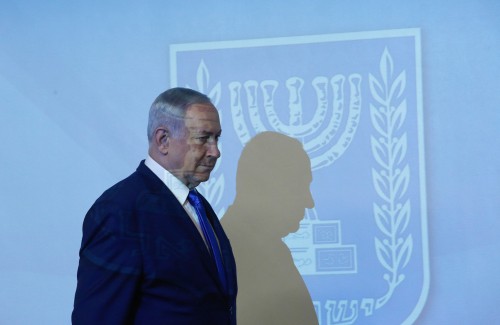 Headline
Netanyahu: Corruption Charges are a 'Coup'
More trouble in a paralyzed Israel as Prime Minister Benjamin Netanyahu faces charges of fraud, breach of trust, and accepting bribes. This is the first time a sitting Israeli prime minister has been charged with crimes, threatening a possible third election in under a year. 
"An Attempted Coup" 
"False accusations," "tainted investigation," and "an attempted coup" were the words Netanyahu used to address the charges, who saw many calling for the Prime Minister's resignation during a time of political paralysis, in which for the first time in its history, a majority coalition in parliament has not been formed. 
Netanyahu has been accused of accepting gifts of champagne and cigars from billionaire friends, with an estimated worth of nearly $200,000. The prime minister is also accused of trading favors with a newspaper publisher and using his power to help a telecom magnate who would in return would publish favorable articles about Netanyahu. 
"Based on a mutual understanding that each of them had significant interests that the other side had the ability to advance," as described, is the alleged relationship between Netanyahu and magnate Shaul Elovitch and their involvement in Case 4000.
Israel is currently in quite a political predicament; Since no majority coalition has been formed and is now in a 21-day period in which any member of parliament can try to become prime minister if he gathers a 61- member majority. However, if it fails, that would mean new elections, the third in under a year. 
With the charges and a recent drop in popularity, Netanyahu's only way out is to remain Prime Minister somehow, because if he does, he could push parliament to receive immunity from prosecution. The likelihood of that happening is a long shot, as weeks of talks have gone by, and an agreement with Blue And White's leader Gantz has not been made.