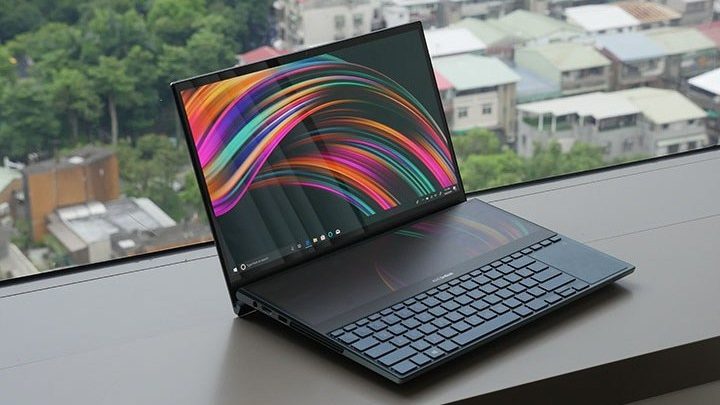 Dual-screen laptops are already a thing, but they are niche products like the HP Omen X 25 15, with a small screen used for changing settings and talking to opponents in-game. Asus recently showcased their ZenBook Pro Duo at Computex, which takes an entirely new approach to dual-screen laptops. Just about every square inch of the laptop is covered in a touch screen, including a 14-inch wide display above the keyboard.
As such, the ZenBook is basically a giant rolling screen with a keyboard. It's an experiment to be sure, but this kind of screen real estate gives us a laptop that looks as good as it works.
Plenty of Pixels
The main screen of the ZenBook Pro Duo is a 4K OLED display with a resolution of 3,840x2,160 pixels. The smaller screen, called the ScreenPad Plus, also has a 4K resolution but without the OLED screen and with a display of 3,840x1,110 pixels.
Easy to Launch Apps
One benefit of having all of these pixels to work with is that there's the option to display lots of mini apps. The ScreenPad Plus comes with a launcher of its own that displays icons for the apps you have on your PC. It looks similar to the display of an Android smartphone. You can access the launcher by swiping in from the left.
Customization Choices
As well as providing app shortcuts, the ScreenPad Plus also have custom layouts of app windows – that can be accessed by tapping the icon second-from-the-top in the left-most column). Since it takes some time to set everything up, this shortcut is sure to come in handy for people who constantly use the same apps.
Impressive Specs
You'd expect something this impressive on the outside to be just as impressive on the inside. The Asus ZenBook Pro offers an Intel Core i9 HK chip that can be overclocked for extra speed, as well as an NVIDIA RTX 2060 graphics card. The NVIDIA card supports incredible lighting effects through ray-tracing.
The Pro Duo is packaged with a wrist pad to help support hands while typing, given that the keyboard is to the bottom of the deck. Like other laptops in the ZenBooks range, it is offered in a Celestial blue color with gold accents, much better than plain old black.
There's also the 14-inch ASUS ZenBook Duo, which is powered by a Core i7 and a GeForce MX 250 GPU. It has a full HD resolution for the main display and the 12.6-inch ScreenPad. It offers a great way for people to try out the ScreenPad for themselves without having to splurge on the powerful workhorse. With that said, though, we don't know how much these machines will cost.
It's worth keeping an eye on this powerful machine and what it means for the laptop industry as a whole.