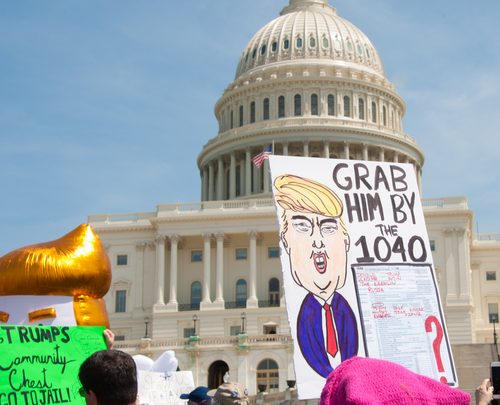 America
NY Court Rules that Trump Tax Returns are Fair Game
A potential and expected showdown in the Supreme Court might just see the light of day over a recent case that sees New York prosecutors wanting to acquire President Trump's tax returns from the last eight years.
A federal appeals court jury on Monday ruled in favor of prosecutors enforcing a subpoena on Mazars LLP, the president's accounting firm, as part of an investigation into alleged hush-money payments to two women before the 2016 elections over them saying they had affairs with Trump. Mazars has said that they will "respect the legal process and fully comply with its legal obligations," in a statement, meaning that whoever wins the case, the firm will cooperate with.
The Legal Battle Between Prosecutors and Trump Attorneys
Chief Judge Robert A. Katzmann has been rebutting any and all complaints coming from the president's attorneys regarding the case. After the Monday decision of the three-judge panel, which backed the prosecution, Katzman said, "any presidential immunity from a state criminal process does not bar the enforcement of such subpoena."
Katzmann and fellow judges added that "the subpoena at issue is directed not at the President, but to his accountants; compliance does not require the President to do anything all," with the 34-page opinion that was released, which also mentioned past cases, such as the matter of Nixon audio tapes from the Watergate investigation.
Trump's attorneys have argued that such investigations are not legal, with William S. Consovoy bringing presidential immunity to the table, saying that while in office, a president cannot be investigated or prosecuted. Another key point were concerns over whether or not the tax information would be made public, something both Trump's attorneys and the prosecutors agree would be "outrageous."
What Happens in the Case Now?
The president and his team have a deadline of 10 days to make the call to bring this to the Supreme Court and ask them to hear the case before the end of this term (June). The prosecution seems to have no problem with this, as they have agreed to delay issuing the subpoena if the case goes to the Supreme Court for a final showdown. Even if the case is won by prosecutors, a huge disappointment might come their way if it turns out that, after all, nothing was ever wrong with the Trump's finances and the allegations of hush-payments turn out to be nothing more than rumors.