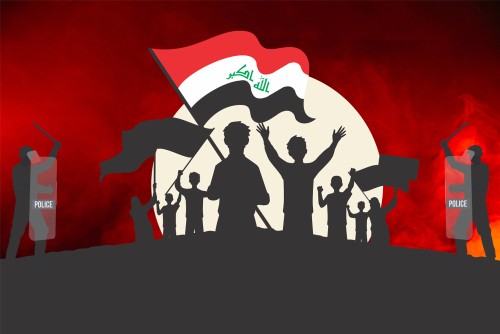 The most severe instance of shutting down internet access in Iraq comes as the southernmost parts of the country and Baghdad have been seeing massive waves of protests this month.
Internet shutdowns and blocks of social media sites have been a frequent occurrence during protests this month, however, as Cyber security NGO NetBlocks has said that usage levels went down to 19 percent their normal amount in Baghdad overnight. Partial restoration of access is underway as of Tuesday afternoon, while social media and messaging apps are still blocked.
Anti-Government Protests And A Wave of Violence Hit Baghdad
Protests in Iraq have only been escalating since their beginning of October, seeing more than 270 deaths of demonstrators so far and power cuts all across the country.
While the protesters are still mostly concerned with Iraq itself, their goal being a complete overhaul of the political system and to take down the corrupt government, some have also been hitting anyone linked to Iran, with the holy city of Karbala seeing an attack on the Iranian Consulate Sunday. The protesters aimed to incinerate the building as accusations started to fly claiming that Tehran was propping up the incompetent government.
U.N. envoy to Iraq, Jeanine Hennis, was outraged and "appalled" by what was happening in the country and commented on the situation on Twitter:
Appalled by continued bloodshed in Iraq. People's high frustration not to be underestimated or misread. Violence only begets violence, peaceful demonstrators must be protected. It is high time for national dialogue.

— Jeanine Hennis (@JeanineHennis) November 4, 2019
Frequent power cuts, undrinkable tap water, poor service, high unemployment – these are all just a part of the issues Iraqi protesters have been complaining about. With protests increasing and tensions rising between the public and the government, along with the sheer number of deaths and no signs of the situation calming down, one has to wonder where is this all going and what will happen to Iraq?
A Leader Looking for Solutions
Prime Minister Adel Abdul-Mahdi has been trying to figure out how to balance things and normalize conditions as he's called on protesters to reopen roads and stop the violence, all the while expressing his support for their demands. He also attended a meeting with judicial and security officials at the Federal Police Headquarters Monday night to have a discussion on how to restabilize the country, while protecting protesters' rights.