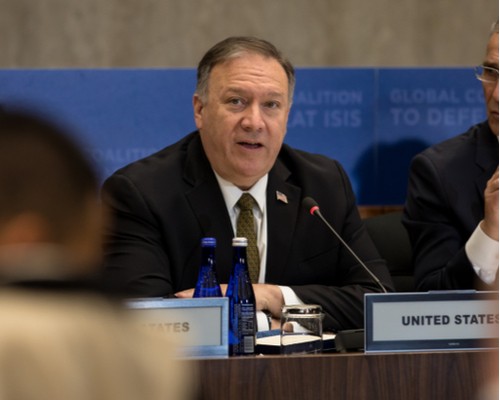 An airstrike, ending in the death of Iranian General Qassem Soleimani, serves to show the president's strength and ability to make "swift, decisive" actions in America's best interests, per Mike Pompeo on Fox & Friends. 
De-escalation or Ignition? 
The biggest question right now is whether the airstrike on Baghdad's International Airport in Iraq that killed Iranian General Qassem Soleimani de-escalate tensions between the US and Iran or will it serve as a spark? 
Secretary of State Mike Pompeo is hoping this response will showcase America's resolve to Tehran and lead to de-escalation. However, he added that "in the event that they do not and they go in the other direction, I know that President Trump and the entire United States government is prepared to respond appropriately." 
Iran has not taken the news positively, as President Hassan Rouhani promised to "take revenge for this heinous crime," saying that Iran would "raise" Soleimani's flag and defend the country's territorial integrity. 
Pompeo justified his approach, saying the strike was ultimately carried out to prevent further attacks by Soleimani's forces: 
"He's got hundreds of American lives and blood on his hands. What was sitting before us was his travels throughout the region, his efforts to make a significant strike against Americans. There would have been many Muslims killed as well, Iraqis and people in other countries. It was a strike that was aimed at disrupting that plot, disrupting further aggression and we hope, setting the conditions for de-escalation as well." 

-US Secretary of State Mike Pompeo
The approach Trump took was "fundamentally different" from what the Obama administration did, Pompeo said, adding that he believes this approach will lead to more success over the previous "sending pallets of cash of the Iranians,... paying for hostages,... creating a deal which would have given them a clear pathway to a nuclear weapon."