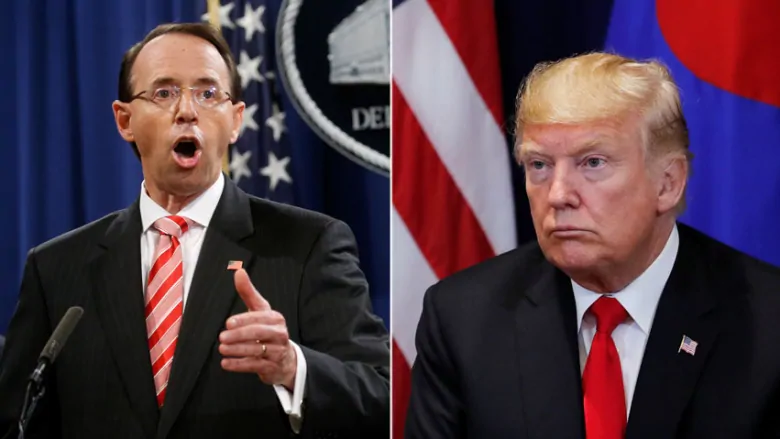 America
President Trump Will Make Rod Rosenstein An Ally
By Michael Busler, Ph. D.

On April 25, 2017, Rod Rosenstein was confirmed by the Senate to be Deputy Attorney General. At the time Rosenstein, a Republican, was the nation's longest serving US attorney employed as the US attorney for the district of Maryland. Rosenstein was nominated to the US Attorney position by President George Bush in May 2005.

Since Attorney General Jeff Sessions had recused himself in all matters related to the Russian interference investigation, Rosenstein assumed control. He selected Robert Mueller to be the special prosecutor on May 17,2017 after being Assistant Attorney General for less than 30 days.

Mueller, also a Republican, was former director of the FBI. Mueller was instructed to investigate ties between the Trump Organization and Russian officials who were believed to have interfered with the November 2016 elections. Mueller was instructed to find out if there was any collusion between Trump, or others, and the Russians.

Rosenstein appointed the special prosecutor after the Democrats and some Republicans put pressure on him. At the time, Rosenstein said, "My decision is not a finding that crimes have been committed or that prosecution is warranted. I have made no such determination."

Trump responded, "As I have stated many times, a thorough investigation will confirm what we already know – there was no collusion between my campaign and any foreign entity. I look forward to this matter concluding quickly."

Unfortunately for President Trump, this matter was not concluded quickly and has dragged on for nearly a year and a half. So far it appears that there has been no evidence of collusion between the Trump organization and the Russians.

Mueller then investigated whether Trump obstructed justice by firing FBI Director James Comey, even though Rosenstein suggested that Comey should be fired. Again there was no evidence of obstruction of justice.

Republicans in the House of Representatives began to question to sincerity of the entire process, especially since Rosenstein signed one of the FISA warrant applications to surveil an American without fully disclosing to the FISA court Judge all of the details of the supposed evidence to support a search warrant on an American citizen.

Later Rosenstein testified under oath admitted that he never actually read the warrant application.

According to memos from other FBI officials, it was noted that the FISA warrant application was heavily based on information from a dossier that was never verified, contained information that was less than truthful and was funded by members of the opposing political party.

Trump became very angry with Rosenstein. "I am being investigated for firing the FBI Director by the man who told me to fire the FBI Director. Witch hunt." Trump later claimed that "13 angry Democrats have been selected by Mueller to probe the allegations against Trump.

"I'm not a Democrat and I'm not angry," Rosenstein said.

Trump decided to stay with Rosenstein and not fire him. That position held until recently, when it was revealed that Rosenstein said that he should wear a wire when speaking with the president and record those private conversations.

Rosenstein also reportedly said that Trump's cabinet should use the 25th amendment to the constitution which says that a president may be removed from office by a vote of his cabinet if they deem him to be unfit to carry out the duties of the office.

It looked like both Rosenstein and Mueller simply wanted to get Trump out of office.

Initially Rosenstein denied saying either of those things. Later he admitted saying them but that he was being sarcastic and really didn't mean it. Either way the President has a right to have employees follow his orders and who are not trying to sabotage him.

What will Trump do now?

Many Republicans want Rosenstein fired. Some reports indicate Rosenstein was recently prepared to resign but Trump said he wanted to speak with him. Trump will likely use a brilliant strategy and not fire Rosenstein. In fact, Trump, a businessperson and not a politician, is concerned with results and less concerned with optics or priorities of his party.

As such he will not only retain Rosenstein but also attempt to make Rosenstein an ally instead of an adversary. It has been rumored that in the past few weeks, Rosenstein and Trump have been meeting on a regular basis and their relationship has warmed.

Rosenstein may have been "in over his head" when first given authority over the special prosecutor. He may have made some decisions that he later regretted. He may have been bullied by Democrats. Either way he appears to be taking a different position today.

Trump will likely not fire Rosenstein. Instead he will try to form a better working relationship with Rosenstein while trying to convince him that the special prosecutor should find the truth about collusion which likely involved the Democrats.

This is certainly not the normal way presidents act. But Trump is far from a normal president.

Michael Busler, Ph.D. is a public policy analyst and a Professor of Finance at Stockton University where he teaches undergraduate and graduate courses in Finance and Economics.