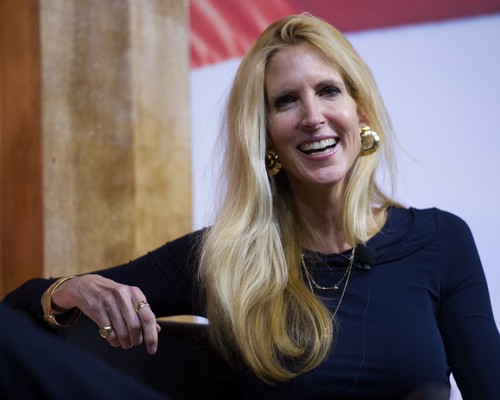 Conservative writer Ann Coulter's event at the University of California at Berkeley saw several arrests of mask-wearing protesters, and a "human chain" of protesters blocking entry to anyone wanting to listen to the author.
Free Speech, or is it?
Campus police reported on Twitter that several protesters were arrested due to wearing masks – a violation of protest policy on campus.
At the Berkeley protest outside Ann Coulter's speech tonight: pic.twitter.com/t5G63MrY3a

— Lois Beckett (@loisbeckett) November 21, 2019
The event called "Adios, America," featuring Coulter and hosted by Berkeley campus' College Republicans, was delayed for close to 15 minutes due to Coulter and attendees having to get through a "human chain" to get inside the building. One attendee even got her ticket stolen from a protester, pretending to be with event staff.
"They can protest all they want and shout their slogans – free speech – I'm cool with that, but I am not cool with having somebody block our way getting in," Marin County Republican Central Committee member, Derrick Main told FOX 2, outraged by the protesters' behaviour.
"We're here to show our support for DACA and also to protest white supremacy," one protester told Berkeleyside, with others joining her in promoting similar causes.
Despite that, not all protesters were aggressive and involved in the block. Although many wanted to see the event shut down, others believe that Coulter is free to speak her thoughts.
That also proved true inside the venue, in which there were two protesters, one was arrested and taken out, while the other agreed to be silent and listen.
This is not the first time this has happened at UC Berkeley, with many previous events being canceled over safety concerns, and it's now pretty questionable whether Berkeley campus is indeed the center for free speech debates or one where restrictions apply and speech is only allowed if it benefits a preselected agenda.